Por Cyberclick, publicado en 22 febrero 2022
Se celebrará el 24 de febrero vía streaming y el acceso será libre y gratuito
El evento contará con ponentes del nivel de Ana Sarmiento, experta en cultura organizacional y desarrollo de liderazgo en Kincentric, Héctor Ibarra, Regional Group Director en Fjord o Luis Reyes, Cloud & DevOps Architect en IBM
IEBS Business School, la escuela de negocios digital líder en formación online, presenta The Next About Digital Leaders, un evento online en el que visionarios líderes digitales compartirán sus experiencias y conocimientos sobre las habilidades futuristas, tecnológicas, innovadoras y humanistas necesarias para crear un futuro de éxito en un momento como el actual: volátil, incierto y cambiante.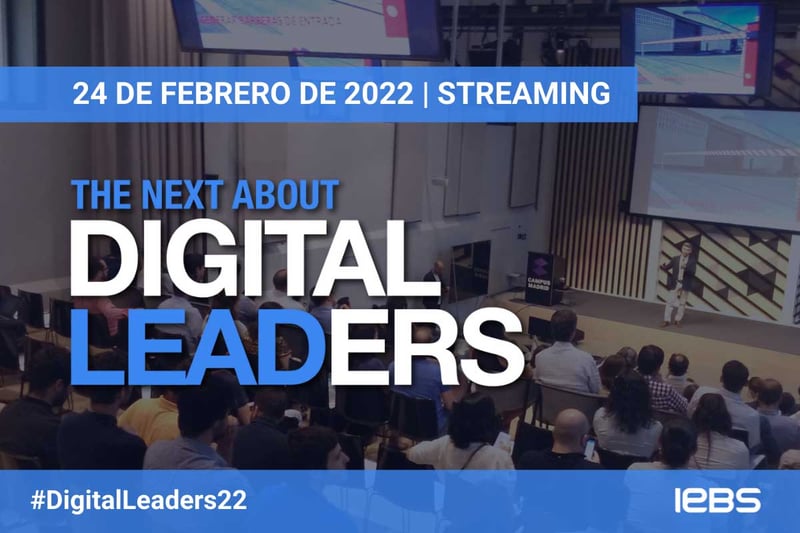 Esta situación caracterizada por la crisis sanitaria ha supuesto un punto de inflexión en la gestión empresarial. Los líderes actuales necesitan estar preparados para afrontar un mundo impredecible que exigirá a sus organizaciones la transformación cultural necesaria para atender al cambio y mayor liquidez en sus estructuras.
Por eso nace The Next About Digital Leaders, un evento cuyo objetivo es enseñar la manera en la que diferentes organizaciones aplican las tecnologías digitales y aprender a liderar proyectos de cambio mientras se reflexiona sobre el liderazgo y la organización empresarial. En esta jornada, los asistentes aprenderán de líderes visionarios cómo han transformado con éxito sus organizaciones, cuáles son las habilidades que han requerido y las mejoras prácticas en materia de transformación digital, gestión del cambio y organización y gestión de equipos.
En este sentido, las ponencias tratarán temas tan relevantes en la actualidad como el humanismo digital, el futuro de las nuevas tecnologías y la tecnología digital que cambiará la próxima década, las tendencias y claves de la innovación empresarial, entre otras cosas.
Ponentes del evento
The Next About Digital Leaders contará con ponentes del nivel de Ana Sarmiento, experta en cultura organizacional y desarrollo de liderazgo en Kincentric, Héctor Ibarra, Regional Group Director en Fjord, Luis Reyes, Cloud & DevOps Architect en IBM, Jara Pascual, Fundadora y CEO de Collabwith, Oscar Gil, Global Innovation Manager en Nestlé o Fuencis Gómez, Head of Digital Transformation en Banco Santander México entre muchos otros.
La jornada se llevará a cabo el próximo 24 de febrero vía streaming desde las 18h y finalizando a las 20:10h con su última ponencia. Es posible registrarse de forma completamente gratuita desde: https://www.digital-leaders.es/