I come bearing excellent news: employee happiness in the workplace has become a trend. The new position on everyone's lips is no longer the CEO or CTO, but rather the CHO: Chief Happiness Officer.
Although its presence in company is not very widespread yet (a search on Google yields around 700 results), is popularity is on the rise. At long last, brands from all over the world are beginning to finally realize that a happy company is the way to go.
What is a Chief Happiness Officer?
Long story short, the Chief Happiness Officer is, as the name would imply, the person responsible for happiness levels within the team and company. More traditionally put, it is safe to say that their position would be included in Human Resources, as it falls to this area to guarantee the wellbeing of the company's employees.
Nevertheless, companies who have someone in charge of happiness go a step further than traditional Human Resources. The goal is no longer just to offer good conditions in an effort to retain employees, but rather to consider work and employment as a source of personal satisfaction.
And although this responsibility falls on the CHO's shoulders, they never work alone. It is up to each and every member of both the directive board and employees to make an effort and actively participate in making this a reality and creating a happy company.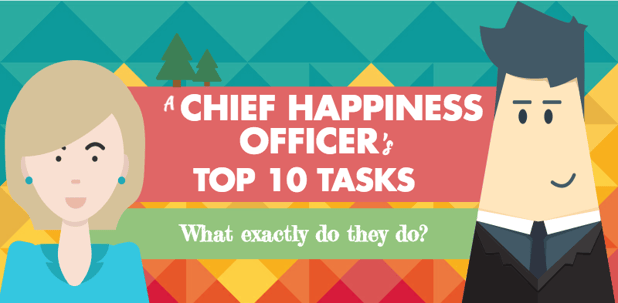 The Chief Happiness Officer's 10 main tasks
So what exactly does a Chief Happiness Officer do in their day to day life? These are the 10 main tasks that their position implies:
Making sure employees feel valued.

Not just as professionals, but as people. Our emotions do not stay at the entrance door when we get to work, they come in and stick with us all day. Realizing this is a fundamental step on the way to a happy company.
Guarantee basic principles.

For employees to be motivated and feel fulfilled in their work, the first thing they need are good salaries and working conditions.
Listening to employees.

To understand what it is employees need to be happy, you need to listen to them. It is the only way we can figure out when something is not going as well as it should, and what to do to make it better. In Cyberclick for example, we use a

Happiness Traffic Light

at the end of the day.
Value day to day work.

Nothing burns us out more quickly than feeling like your effort is not appreciated. It is the CHO's duty to make sure employees know that their work matters.
Grant freedom.

The tyrannical boss idea is a thing of the past. If you want your team members to surprise you with their skill and abilities, give them the freedom to organize their own work and schedules. This allows them to adapt their work to their personal life, rather than the other way around, making them much more productive and motivated.
Support growth.

Work can and should be a source of personal fulfillment on every level. In order to feel this fulfillment, people need to have room to grow, educate themselves and learn continuously every day. The CHO should help make sure they have the resources and means to do this within their workspace.
Help conciliate.

As opposed to strict and rigid office hours, a happy company needs to be able to recognize the importance of a work-life balance. Details such as flexible working hours and holidays make employees feel taken care of and satisfied.

Create a positive work environment.

It's not all about productivity and salaries: employees should be having fun at work! This is the Chief Happiness Officer's key goal.
Encourage teamwork.

Positively functioning teams is a "symptom" of a functioning company, not only in terms of productivity but also in terms of happiness in the company. In order to promote and encourage it, the CHO should organize events like team building activities, retreats and others that build team spirit.
Empower employees.

The more power employees have regarding the company and how it works, the more emotional energy they will invest in it and the more satisfied they will feel in their day to day. At Cyberclick, for example, we make sure each and every employee gets involved in the recruitment process of a new colleague. They have the final word and decision.
Article by: Berta Campos
Infrographic by: Paula Mock