By David Tomas, on 20 June 2016
They say that one of the keys to happiness is to know one's self, and one of the keys to success in marketing is, without a doubt… knowing your clients!
Only when you know what they feel and think can you anticipate their needs to offer them products that actually need.
Your ideal client will not necessarily be anything like you or your team, which can make it tricky to put yourself in their shoes.
To solve this problem, and get to know your clients like the back of your hand, I would like to take this opportunity to tell you what a buyer persona really is, and why it is essential in Inbound Marketing.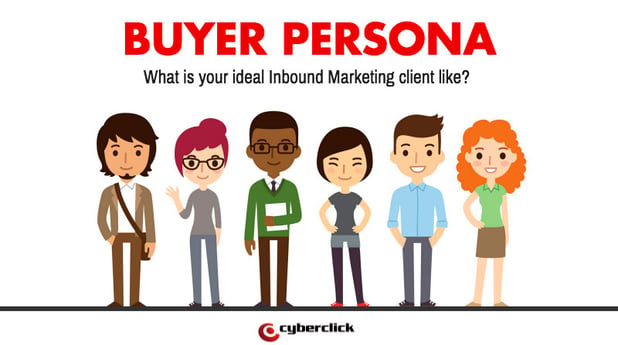 What is a buyer persona?
A buyer persona is a semi-fictitious representation of your company's ideal client. Basically, it is to characterize the people who will buy your products or hire your services: their motivations, their challenges, their goals, needs, circumstances, etc.
To truly use this tool properly, we have to go much further than demographic information, and include a psychological and social profile of the client.
Creating a good client profile is not hard, but requires in-depth studies and knowing to ask the right questions to get the answers you need: and to orient your inbound marketing campaigns' content.
Logically, you can have several profiles for different types of clients, although the ideal is to go step by step, and create new ones according to your brands needs.
You may also find it useful to define negative profiles as well, in other words, to concretize the kinds of people who do not interest you as potential clients (for example, those who use your content for other reasons, or because the acquisition and retention costs are too high to be profitable).
Here is a summarized example of what part of such a profile could look like:
Mary is responsible for her company's Marketing Department, where she has been working since she graduated 15 years ago. She is divorced and has a daughter who lives with her. Her annual income is around 50,000 euros gross and lives in a house on the outskirts of a large city.
When looking for external suppliers, she seeks quality guarantees and provable experience. She goal is to improve her company's results while maintaining a favorable worker satisfaction level in her department. She is particularly interested in a technological solution that will allow her to centralize the information flows and her employee's trainings.
How to create a good buyer persona for your inbound marketing campaigns
To successfully use this marketing tool, the key is investigation, investigation, investigation.
Your profile is that of a fictitious person, but should always be based on real life cases. For this reason, the first step is to acquire this information by interviewing several people:
Current clients.

They are already using your product, so theoretically they should be a good representation of people who need it. They will help you understand what needs your product satisfies and how it could be improved.

Potential leads.

They have not yet become clients, but you know they are interested in what you have to offer and you have their contact information, so don't miss out on any opportunity to get to know them better.

Your network.

If your company is new to or just entering a sector for the first time, you will have to find people within your contact network who can recommend people for you to interview.
Once you have chosen the people you will be interviewing, you now have to convince them to collaborate. I recommend not offering incentives, as it might influence results.
Generally, clients like feeling like they are listened to, so as long as you make you intentions very clear you shouldn't have too much trouble.
Make it as easy as possible for them to participate and, if possible, personalize the interviews as opposed to doing them in groups.
Lastly, you are probably asking yourself how exactly to put the questions.
Next I will explain what exactly you need to know about your imaginary client, which you can use as a guide to develop your interview.
What do I need to know about my ideal client?
The whole point of the interview is to obtain information that will guide you inbound marketing campaigns, so asking the right questions is essential.
According to Hubspot, these are the sections any good buyer persona should have, and the information you need for each one…
1) Who?
Here you need to gather your ideal client's demographic information:
General Profile: their job, the basic data concerning their work experience and family situation.

Demographic information: their age, salary, where they live and gender.

Identifiers: What their personality and behavior is like, and how they prefer to be contacted.
What?
Here the goal is to reflect on how your company can help them through the following points:
Primary and secondary goals.

Primary and secondary challenges.

What your company can offer them to achieve their goals and overcomes their challenges.
Why?
Don't forget to echo the feedback you get in the interviews, with real comments about your clients goals and challenges, as well as the most common complaints or objections. This is the ideal section for that.
How?
Once you truly understand your clients' needs, the time comes to define the messages you are going to use to reach out to them:
Marketing messages: how would you describe your company's solution to this persona?

Sales messages: how would you sell them the solution?
Last but not least, two recommendations when writing: try to use the tone of voice and type of vocabulary that fit their personality, and pick a name and picture to represent them.
The more your persona seem like a real person, the more it will inspire both you and your team when orienting your campaigns!
David Tomás