By Laia Cardona, on 10 February 2016
We all know that email marketing campaigns have come back and are here to stay and that they are a powerful tool within the direct marketing strategies. It's a simple and effective way to reach potential clients. Not only do we reach their inboxes, but also the actual hands of the consumer. We live in a mobile world, in which users have their emails configured on their mobile devices. Thanks to this, email marketing has been reborn, stronger than ever.
Remember! Sending an email is reaching out directly to your target's smartphone. In case you're not yet convinced, just know that in Spain, 75% of society has a smartphone with Internet connection, as well as 68% of people in the UK, 57% in the US, 53% in Italy, 50% in Germany and 49% in France.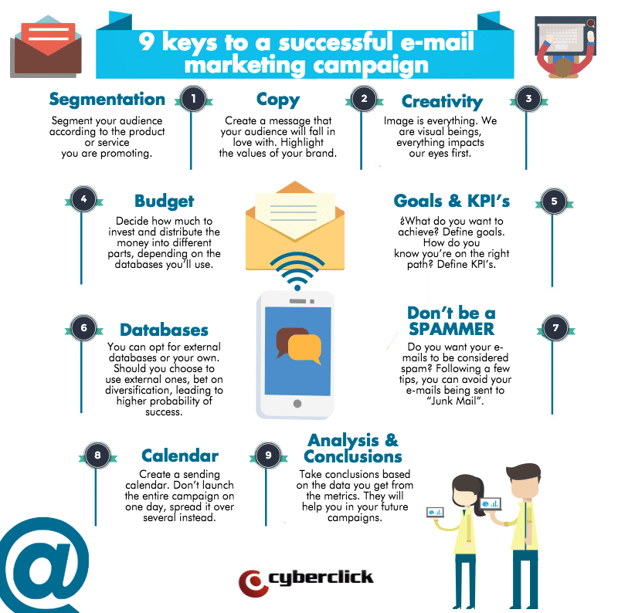 9 keys to a successful email marketing campaign
Magic formulas don't exist, in order to achieve a successful email marketing campaign you have to invest effort and dedication, but I can give you a hand! Below you will find 9 essential things to keep in mind that will help you to achieve your goal.
1# Segment your audience
This may sound repetitive, even we have used this phrase countless times in our Numerical Blog's articles, but it is totally true. If you want to be successful with email marketing, and don't want to watch your budget wash away in a sea of useless "send"'s, start by segmenting your audience according to the service or product you are trying to promote. Ask yourself:
What countries or regions are more prone to your product/service?
What age range should you be aiming for?
What are your target audience's preferences? This can help you a lot when it comes to choosing databases.
What is your target's family or work situation?
What purchasing power do they have?
There are many other questions you can ask, but these are the essential few that will help you get on the right track.
2# Copy, with the power of persuasion
Get your whole creative team together and lock yourself in a meeting room for a serious brainstorming session. It just one sentence you should be able to summarize the message of what you are trying to sell. No one knows better than you and your team, what values and characteristics of your product or service standout. Make a list of the most important ones, brainstorm some ideas and get everyone to improve it in a chain, until the best Copy is born.
Here are a few more tips so you know what works:
Immediacy wins the race. Use words that refer to the now, the present. Incentive your consumers to consume your product quickly, with a time-limited offer, for example.
Percentages sell more. When you publish your promotion, use percentages instead of absolute numbers. These types of email marketing campaigns have a greater conversion rate. I.e.: Try "50% off sunglasses" instead of "Get 50€ off your new sunglasses".
Novelty attracts. Whenever you can, make sure to highlight that your product is "new" in your copies. Consumers love this. Even though the search for outlets and second hand products grows stronger everyday, leave that for those who specialize in it.
Don't overuse your CAPSLOCK. They aren't pleasant to look at and can convey aggressiveness, as they're associated to loud speaking and negativeness.
3# Image is key.
We are visual beings. The saying "a picture is worth a thousand words" says it all. The success of Instagram is the perfect example, where perfect pictures are the star of the show.
Take great care of the image that is directly related to the copy/message that you've created for your email marketing campaign.
Don't design it yourself, leave the creativity to a professional. If you have one within your company, great, if not, hire an agency or a freelancer to help you with this task.
Furthermore, I'd advise you not to design just one image, but have a couple more up your sleeve, in order to send a few test-runs at the beginning of your campaign with the different images: A/B testing. Like this you will be able to find out which image gets more conversions, and that will be the one to use in the big send-outs.
Read up on more important information on this post - Perfect images for Instagram: 5 Tricks. Although these tips are custom made for a specific social network, the key elements are applicable to any situation in which you want to captivate your audience's attention through imagery.
4# The Budget
Another key that is often repeated when it comes to designing any direct marketing strategy is the budget. Make sure you have it chrystal clear, not only how much you want to invest but also how you are going to distribute it amongst the databases. If you feel a bit lost in this area, you can always get the help of an expert.
5# Objectives and KPI's
What are your trying to achieve? How do you know if you're on the right path? First of all define the goals you want to achieve and that you feel will make your email marketing campaign successful: number of visits, obtained leads, purchases, number of emails opened, etc.
Then you will have to nail down the KPI's or metrics that will help you know if you are on the right path.
6# Which databases are ideal?
This task is hard work, and it can take a while to figure out which databases are the most adequate for your campaign. It all depends on the target you've defined and that budget you have to work with. It can get even more complicated if your planning on targeting different countries, and if you get to finding yourself overwhelmed with this task, it's advisable to get a marketing or online advertising agency to help you in this oh-so-important step of the process.
If you are using one of your own contact databases for your campaign, then youre in luck, as you have part of the work already done and save time.
7# Don't let your emails be considered SPAM
Caution! Email servers have very tough protection filters and are very picky. One of the trickiest ones when sending emails in mas is Google's, due to the enormous amount of existing Gmail accounts throughout the world.
There are however, always tricks you can use so that you're emails aren't considered spam:
Avoid using the words "prize", "offer" or "discount in the subject. Many users will report emails that have subjects like this as spam, and antispam filters take it into consideration also.
Don't create infinitely long emails. Emails sent between users are short, and don't contain great lengths of text. If your message is too long and goes on paragraph after paragraph, it is much more likely users will send it straight to "Junk Mail".
Create your images like a puzzle. If your image is quite big, we recommend you split it up into smaller visual items, that blend together forming a single one, like a puzzle. Images that are too big can be considered spam.
8# Plan what days to send on
If you want your email marketing campaign to have a large number of sent emails, it's advisable to spread out the final number, and send out different ones on different days.
Check out this post for the best days for your email marketing campaigns.
9# Analyze the metrics and take conclusions
To finish off, analyze the metrics and once you have the data, take conclusions. Was it a successful campaign? We hope so! Don't forget to share your experience and success with us.
Laia Cardona
To read this article in Spanish, please click here.