When well planned out, the holiday season can be a great drive for your business. We won't deny it's hard: most companies are competing for their consumer's attention during this season, meaning you need to be unique and original to stand out from the crowd.
It is all too easy for your brand to get lost among ribbons, mistletoe, christmas shopping and new year's plans. To make sure this doesn't happen and that your clients remember you, you need to design and implement marketing strategies that keep you as a priority in their minds. Which is why I would like to tell you today why and how to optimize your mobile marketing strategy this holiday season.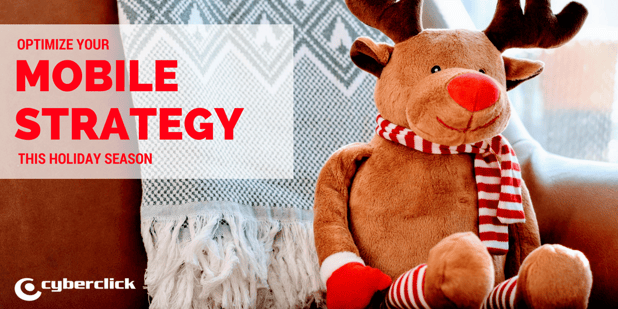 Why invest in mobile marketing during this holiday season?
It is no secret that mobile has been an incredible trend and a star player in our lives in 2016. The statistics confirm that mobile marketing is, without a shadow of a doubt, more than capable of giving your brand that extra push it needs this holiday season:
Nowadays,

users connect more frequently from their smartphones than from their desktops.

According to Google, 2015 was the first year in which mobile traffic overtook desktop traffic, and this trend has become so much more than a trend. In the United States, 75.1% of internet users connect from their mobile devices.

Another mobile marketing advantage is

how easy it is to convert.

By using smartphones, we can reach out to users in real time, even when they are outside of their homes, when they are most willing to purchase. According to one of Google's studies, 50% of users who made a local search from their smartphones led to them taking action (like going to a store, for example). As for user who made these searches from a desktop, only 39% were led to take action.

Most consumers

search for holiday events and gift ideas

from their smartphones, making mobile marketing a very attractive channel for your holiday campaigns. This is a particularly good option for small and local businesses, as it will interest users to know where they can purchase products or services near them.

According to the

National Retail Federation's Holiday 2016 study

, American consumers plan to

spend an average of 935$ during this year's holiday

shopping season, making it one of the best opportunities for your campaigns and marketing efforts.
You might also be interested in reading this article: 6 "musts" for a good mobile marketing strategy.
How to optimize or implement your mobile marketing this season
Create a responsive webpage
Is your website not adaptable to mobile devices yet? Well, what are you waiting for? Having an entirely responsive website should be the first step in your mobile marketing strategy, guaranteeing your visitors a great user experience from any device. As well as a well adapted design, you should also keep your loading times in check: studies show that users tend to abandon websites that take longer than 4 seconds to load on their smartphones.
Launch a mobile ad
Thanks to tools such as Google AdWords, you can create ads than can be viewed only from mobile devices, allowing you to make the absolute most of their "real time" potential. These kinds of ads are particularly useful for local searches and depend heavily on the context. Creating a fully and entirely optimized campaign can be quite tricky when starting from scratch, so if you have any questions, don't hesitate in getting in touch with an SEM expert who can help get the most out of mobile advertising.
Make the most of marketing via SMS
If you think SMS are a thing of the past, you couldn't be more wrong! Studies seem to show that smartphone users tend to read promotional SMS more frequently than emails. Mobile Marketing campaign via SMS can be one of the best ways to get quick results, especially if you combine them with discount codes or coupons that redirect users to your website.
Create a mobile app just for the holidays
A high level strategy to get potential clients' full attention during a key time. In order to be successful, your app should be recent and trendy, with access to your special holiday offers and discounts. By using it, you can easily obtain user information such as phone numbers or locations. In exchange, you will have to give them useful information about their environment and situation.
Plan ahead
Normally, people start planning their Christmas shopping months in advance, even if it's just by making a list of gift ideas. And if your clients do it, there is no excuse for you not to do it aswell. It may be a bit too last minute for the 2016 holiday season, but it is never too early to start planning your campaigns for next year (even if it's just putting a reminder in you calendar of when to start planning them). Generally, it is advisable for your Christmas campaigns to be ready by September at the latest.
Make the most of trends and events
The holiday season is full of opportunities to launch mobile marketing campaigns, be sure not to miss out on them! For example, you can prepare for Black Friday ahead of time, making it easy and straightforward for users to access your deals and offers on the key day. In this case, Google AdWords Ads for mobile can be extremely useful. You can use this technique for other important days also.
And remember: in terms of mobile marketing, integration is key. When planning out your strategy, think about creating synergy between your different mobile marketing strategies as well as with other channels. For example, if the link in your SMS redirects to a page that is not adapted and ready to be viewed on mobile devices, you will not get any conversions. Strong coordination is essential when implementing your holiday season mobile marketing strategy. Good luck, and Happy Holidays! :)
Chantal India