What is Native Advertising? To explain we will start off with an example… Envision two different situations. You are relaxed, calming surfing you favorite website and all of a sudden you come across advertising banners left, right, above and even below. You change websites and start reading a thrilling article and, once you are finished, the website itself recommends you read different, yet related content which was made by another brand. Which one inspires more trust in you? If you feel inclined to chose the latter… you have fallen into the sweet embrace of native advertising.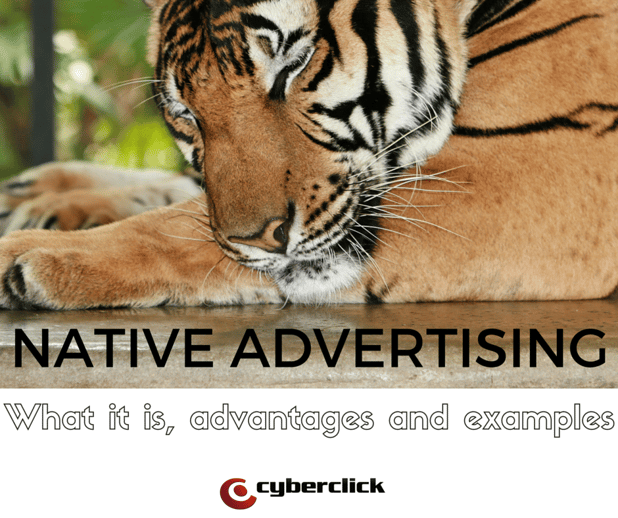 Content advertising and native advertising stems from putting yourself in the consumer's shoes and look for a way to make advertising which connects with the consumer, offering them relevant information, in a non-intrusive way.
The advertising industry has found a fantastic niche to work in and multiply its benefits. It's all about a format that improves the user's navigation experience, and, in exchange, we gain their trust and their interest. For this reason, it is safe to say that we have a unique opportunity in front of us, and the marketing companies with great futuristic visions are already making the most of it.
Characteristics of Native Advertising
If you have not yet joined this revolution, you will need to know a little more about what characterizes this particular type of online advertising.
Content advertising integrates online advertising into webpages by using the content as support. In order to do this, it respects the format and editorial style, but, and this is VERY IMPORTANT, it must be explicitly specified that it is in fact advertising content.
Native advertising will be successful if its content is brilliant and useful. It should be in line will the rest of the articles that are there. If we think, how do we sell our brand with an interesting, pleasant and entertaining story? If you are able to create content like this, you will increase the probability of your readers remembering your brand or your product/service.
In order to achieve this engagement, offer content (articles, videos…) where you first pin down the necessity of your potential client, and then present your service as a solution. If you start by listing all the benefits of your product, you will lose their interest. Capture their attention with highly valued information, which is so interesting and attractive that they will even want to share it with their contacts.
On the other hand, make sure to keep in mind to optimize and adapt this type of advertising to the different devices and platforms available. You can make the most of videos, images and other dynamic forms so that the user has the opportunity to respond to your content and engage in dialogue with your brand.
Take a look at this example of a native advertising campaign we developed for Switzerland Tourism. For other success stories, you can read this post: Three striking examples of Native Advertising.
Advantages of Native Advertising
In contrast to other, more traditional and invasive advertising formats, like banners or pop-ups which interrupt the internet user's navigation, native advertising has the ability to attract much more attention from the readers. This is mainly due to the fact that native advertising uses the format and style of the digital content to promote a certain content or product. Like this, it is less noticeable. Furthermore, as it contains information which is useful and productive to the users, and as such is more likely to be shared on social media, increasing its reach and enabling the advertising message to reach as many potential clients as possible.
With the appearance of social media, many traditional advertising formats have suffered a gradual decline in usage. On the other hand, Branded Content continues to rise due to the excellent results it offers, and its greater impact on users. This is demonstrated by an IPG study from Forbes. The people who consume this type of advertising have a better opinion of the companies who chose this format to promote their product or service. In the same way, the users of native advertising have a 41% better chance of actually acquiring the product or service in question.
Native Advertising likes consumers and brands
The many advantages that come with this new form of digital advertising, as we saw above, make native advertising one of the preferred forms of advertising, not only by the consumers who find useful content in appropriate environments, but also by the brands.
According to one of the latest studies done by OPA (Online Publishers Association):
53% of the total amount of people surveyed assured that they felt a lot more attracted by this type of advertising as opposed to the rest of the traditional types of advertising.
In the same way, 52% of people said they would be willing to buy or acquire some of the products or services promoted in these types of digital content.
And as for the message being shared, 32% of the people who participated assured they felt sufficiently interested in these contents to share them on their social media, allowing the message to reach their friends and followers.
Once again, we see how this native advertising wins the battle between display formats or traditional advertising in these online environments. Native advertising messages are able to attract more attention that the rest and have a greater likelihood of going viral on social media, thanks to the consumers themselves sharing them. This then explains the increased interest of the editors of digital environments to offer this type of promoted content to companies.
According to the same study mentioned above, almost 75% of editors confirmed that they are offering this type of native advertising on their sites. Another 17% assured they were planning on doing it, and only 10% cast aside the thought of offering this type of advertising content in digital environments even with the decline being suffered by the rest of advertising formats.
Types of Native Advertising
According to IAB Spain's classification, there are two types of native advertising in digital environments:
1# Open: Consists in promoting the same content on various platforms or pages that share the same topic. This type of advertising, shared on various platforms at once, is possible thanks to informatics systems such as Taboola or Outbrain.
2# Closed: As opposed to open advertising, the form of native advertising is one which is published by a specific page or environment, and is formatted according to the style of the environment itself. Like, for example, a post on a specific blog, or an advertising message on a social network, such as Twitter or Facebook.
According to the classification established by IAB USA in their recent guide "Native Advertising Playbook", native advertising can be divided into 6 different types:
#1 Advertisment integrated in the editorial content: All content which includes a sponsored message and which are perfectly integrated in to the environment, following its format and style. These integrated advertisements can be of 3 kinds. On one note, we can find content, which has been created by the advertisers themselves and by the editors. These types of messages blend in perfectly, as if it were a piece of content of the website like any other. Aesthetically, they comply with the format and style of what's around them, which allows them to go unnoticed. These ads allow users to interact with them normally, without having to leave to page nor interrupt their navigation.
#2 Advertisements on search engines: The most popular search engines amongst users, such as Google or Yahoo, allow users to highlight their links in the results obtained by the users search. These sponsored links, which come with a disclaimer that identifies the brand or page, appear at the top of the page of results, just above the naturally obtained links.
#3 Recommendation Widgets: As opposed to the others, these advertisements do not adopt the format of the rest of the content of the page, even though they blend in, and contain something that sets them apart, such as "don't miss this" or "we recommend". Some of the recommendation widgets most used by advertisers are Taboola or Outbrain.
#4 Promoted lists: In this case, the advertised messages integrate and blend in perfectly with the rest of the page's content. In other words, They are presented identically to the other products that can be found on the page. Amazon would be the best example of a page that uses the promoted lists to include objects with link which direct to the brand's page.
#5 Standard advertisements, integrated with native advertising: These types of announcements are found outside of the editorial area of the page and do not share the format of the rest of the content, instead, they present themselves as an ad similar to display, even though it is set apart from the rest of the page by an identifying label. Furthermore, these advertisements are linked and redirect to a page external to the advertiser itself.
#6 Tailored Native Advertising: This is, beyond measure of a doubt, the most creative form of branded content. In contrast to the formats mentioned and explained above, this one is agreed on and created by the editorial teams of the environment and the advertiser. It can take on many creative shapes and types, allowing for total creative freedom.
Native Advertising on social networks
How do we include native advertising on social media? Certainly the most common nowadays is to include native messages in editorial environments, whether its as sponsored articles or posts on blogs, but what happens on social networks? There are increasingly more advertisers who decide to invest just as much in these new social medias in order to include their native messages.
Facebook: This type of advertising can be found, since last year, on Facebook's NewsFeed. The increase in this type of advertisements on social media can be proved by looking at the numbers. Last year, the Branded content on Facebook accounted for between 5% and 10% , which is equivalent to 60% of total company revenue of the same year.
Google: The most popular search engine between users introduced this form of advertising through TrueView on Youtube. Like this, many of its advertisers were able to overcome the 4% ratio of CTR. A big success.
Twitter: Twitter was one of the first social networks to include these kind of native messages. The advertising brand were able to hire three different kinds of advertisements; Promoted Trends (promoted news that appear just above the Trending Topics of the country), Tweet Cards (appear related to some tweets to complete the information about certain products with images or descriptions) and Lead Cards (similar to tweet cards but, they allow advertisers to interact the followers of a determined product).
Linkedin: From July 2013 onwards, Linkedin began to include native messages in this social network which was created to boost its users professional profiles.
Pintrest: Some of Pintrest's famous pins are sponsored by advertisers. Like this, it's as if Pintrest includes native messages on the network and puts them within reach of all its users.
To finalize, I would just like to emphasize the essence of Native Advertising: that it offers high quality, useful and up to date information to the final user, using publication platforms such as social media, prestigious blogs and digital communication environments – and therefore is a great benefit for all of those involved: the final consumer, the advertisers and all of those in between.
David Tomás
To read this artcle in Spanish, please
click here
.