More and more brands are getting on board with social ads by the minute. With a seemingly endless stream of platforms and personalization options, the possibilities and varieties of ways to reach out to our audience are all but endless. Social Ads are an incredibly profitable and versatile advertising channel that give us the ability to build specific campaigns to meet a selection of different business goals at relatively low costs.
To clue you in a bit more on the new social ads options, or even if it's your first time venturing into these waters, I would like to talk to you today about the main social ads platforms and share two of our own success stories here at Cyberclick.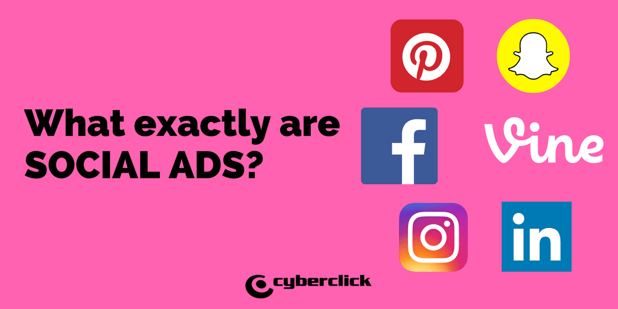 The main social ads platforms
Which is the best social media platform to invest your advertising in? There is no one correct answer - it may be cliché but the truth is that is depends on the situation. When making your decision, you need to think about the most popular social media networks among your audience, what kind of campaign you are looking to create and the features of each of these platforms. To help you out a bit, here is a short summary of the most popular:
Facebook Ads.

Facebook is the world's most popular social network, which offers a very solid and reliable advertising platform. Aside from having an enormous potential audience, it has the advantage of being extremely visual and offering multipole and detailed segmentation options, from demographics to lookalike audiences.
Instagram Ads.

An extremely visual network, where users are very inclined to like a large quantity and variety of posts, and that makes the most of its integration with facebook. To take maximum advantage of its potential, focus on optimizing and perfecting your images and videos.
Twitter Ads.

This little blue bird network also offers very interesting social ads options, letting advertisers create campaigns adapted to various different objectives (conversion, leads, app installs, etc.) and increase their potential audience with Twitter Audience Platform. If you want to make the most of it, combine it with an artificial intelligence tool!
YouTube Ads.

Video Ads on YouTube are the closest form to traditional television advertising. Make the most of its potential to tell your audience storied they will connect with.
Snapchat Ads.

This relatively recent social network has a very young and tech-savvy audience. Its advertising shares its relaxed, fun and informal nature, offering amazing and creative options through 10 second videos, Sponsored Geofilters and Sponsored Lenses (the perfect way to get your users to have a great time playing around with your brand).
Pinterest Ads.

This most adorable network has a largely female audience and is an absolute hotspot for topics such as weddings, cooking or fashion, making it very useful for advertisers who find themselves in this niche.
LinkedIn Ads.

This advertising solution can be very useful for those looking to reach out to a professional and corporate audience, with B2B.
An article that might interest you: Google Ads vs Facebook Ads: the advantages of digital advertising on each channel
Social Ads Case Study: Iberia
Here at Cyberclick, we work with Spanish international airline Iberia to promote the growth of their main routes originating in Spain, Latin America and other European markets. In order to do so, we use our artificial intelligence based Twitter Ads optimization tool, Twitter Tech Marketing.
Our primary goals were to optimize the unit cost for each user's search using the form on their website, as well as to get to know the users' purchasing behavior, given we were targeting a mobile audience who still finalize the majority of their purchases from desktop devices.
The strategy was based on a series of actions in Spain, France, Brazil and Germany, progressively testing all the routes with the maximum amount of microsegmentations allowed by the tool.
In the first phase, the campaigns were "always on", with generic and timeless messages. In the second phase, we introduced Real Time Ads, which displayed real time prices and destinations, updated according to the airline's offers. In order to do so, we developed a pioneering integration with the company's price feed.
These were the most noteworthy results:
Over 1000 active segmentations in the in live campaigns.

Over 70,000 visits were directed to the landing pages from our ads.

The average CTRs were around 0.25%, with special emphasis on premium destinations such as New York (with a CTR of over 0.60%).

After arriving on the website, users showed high reactivity rates, with almost 27.000 availability requests using the forms (38.5% conversion rate, in terms of visitors).

The cost per search came down to under 1€, which is 10 times less than those obtained through previous campaigns and efforts.
Social Media Success Story: Groupalia
In this case, we decided to let our more adventurous and curious side out to play by trying out Twitter Audience Platform, a tool that allows advertisers to significantly increase their Twitter Ads campaigns' outreach with help of an external mobile app network.
To try out this tool, we did a 60 day test with Groupalia, launching a campaign designed to boost app installs. These were the main results:
Significant amount of generated impressions (and, hence, outreach), with significant presence and distribution in the mobile environment.

The engagement rates related to banner and interstitial formats were very noteworthy and constant over time: between 0.35% and 0.45% with banners, and up to 4.20% in static interstitials. There was a less frequent need to update creative elements in the Twitter-only campaigns.

Costs per engagement between 0.02 and 0.03€. By obtaining very inexpensive traffic, it is possible to attract high volumes of visitors with very small investments.

Very competitive CPIs were obtained, between 1€ and 1.15€, much like the app's own campaigns within Twitter itself.

Installation and purchase data were also very similar to the app's Twitter campaigns', showing, for example, a 3.85% purchase conversion rate after installation.
You may also be interested in: Dead Zone times on social media. Posting forbidden!
David Tomás