Nowadays, Twitter Ads is one of the best ways to increase your brand's visibility and impact. I have already told you on this blog all about how we should be seeing Twitter as an advertising opportunity. Today I would like to tell you about one of their newest features, Twitter First View.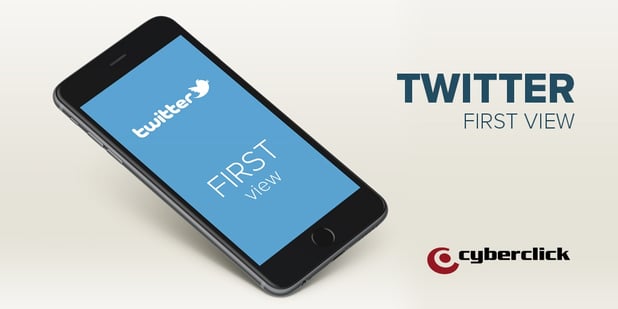 Twitter First View
Twitter First View is a new advertising format that will make your video the first tweet users will see for 24 hours. The video will be shown in this privileged spot anytime a user connects, whether from a mobile device of from their desktop.
The great advantage of this format is its immediate visibility, which greatly increases the probability of engagement. It is time limited to 24 hours, in other words, the same brand cannot buy the same space for two consecutive days, for example, in order to avoid frequent users from getting bothered or bored with the ad. Thanks two these two characteristics, Frist View is an ideal way to launch ads that are closely related to a specific moment: events, releases and launches, limited offers, etc. and multiply its viral potential.
As for its price, Twitter has not yet unveiled any information on its blog, but it seems safe to assume that it will become one of its most expensive advertising formats, given we are dealing with the entire platform's most valuable advertising space. In Spain for example, Sony Pictures used it to promote their latest movie, Angry Birds.
Twitter Ads: an advertising solution for every need
Twitter First View adds to an already existing advertising system with a lot of solutions to fit every need. Twitter Ads lets you create campaigns oriented towards the different objectives your company may have:
If you are looking to grow your audience, this is definitely the campaign you should be using. You pay for each new follower that subscribes to your updates.

Web clicks or conversions.

The goal here is to increase the amount of visitors to a specific page on our website, paying per click. For ultimate success, use the Website Cards.

Tweet interactions.

Looking to make some noise on Twitter? Then this is the campaign for you. You will be charged for each user interaction with your tweet (retweets, favorites, etc.)

App installs or interactions.

If you do app marketing, don't let this opportunity be set aside! Pay per click that gets redirected to the Apple Store or Google Play.

Potential Clients.

Choose this option if you need to increase your lead database. Pay per email address received.

Video playbacks.

In this option, you will pay each time your video is 100% visible on a user's timeline for at least 3 seconds, and now you can even increase its visibility using Twitter First View.

Customized. A catchall for all campaigns that don't quite fit into the abovementioned objectives.
All of these choices, added to the need to segment audiences by different criteria and to compare different combinations of creative elements, make the Twitter advertising environment as effective as it is complex. This is why, here at Cyberclick, we use Artificial Intelligence to achieve a better management of our Twitter Ads.
David Tomás