If a picture is worth 1000 words, than according to research a video is worth 1.8 million words. In the age of youtube, netflix, vimeo, and twitch, we can all agree that video is exponentially more powerful than the written word. This trend is clear when it comes to digital content. According CISCO, 57% of traffic recorded corresponds to online videos. This figure is expected to rise to almost 70% in the next few years.
We've selected the top 7 most important keywords for you to know about video marketing.

Here's a short guide, as your ticket into the world of videos.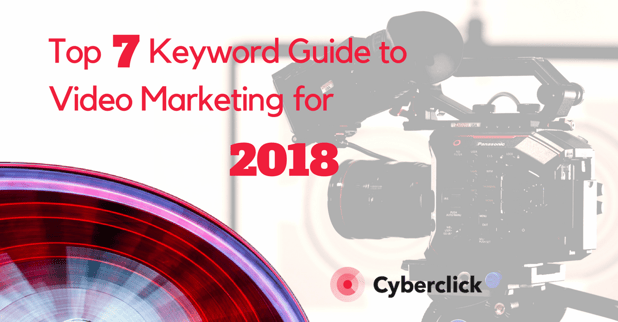 1. Video Marketing
Starting off with the basics, what defines video marketing? Video marketing means using videos to promote brands, companies, products or services with the aim of increase sales, brand awareness and in general meeting the goals of the company's marketing strategy.
2. Thumbnails
These are images that appear on the YouTube homepage or google video search. If optimized, these can portray your corporate identity and increase the number of clicks and views.
3. Storytelling
Storytelling is a marketing technique to create video stories in with which the user can relate. These makes it easier for the user to identify with your brands vision, products and services.
4. Moodboard
A moodboard creates a design theme through textures, images, colors and text. Moodboards are used for orientation of style and a conceptual compass for your video marketing campaign.
5. Call to Action
An in-video Call to Action (CTA) is a request to your viewers to take a particular action after watching the video. Effective call to actions use verbs such as 'download now' so that the message is clear. Because you don't want your viewers leaving you mid-video, the CTA usually comes at the end.
6. Explanatory Video
Video created to show all the benefits and ways of using a service or product, with the aim of increasing the demand of it. It is increasingly used by startups to easily explain what they are and why they should be used. Whether vertical or horizontal, these can take various shapes and sizes:
Animated videos. These use digital characters and objects to tell your story and offerings. Often these come with a narrated voice-over, although on-screen text helps support the message given that many videos are played in mute by default.
Live action videos. These feature non-digital characters and objects, in other words; real people and a real set. The beauty of real human interaction is that it is captivating. To boost audience retention, features such as on-screen graphics and messages are used, which help support the message.
Testimonial videos. These are live action videos with the specific content of interviews. These interviews are generally conducted with anyone close enough to the firm to have an opinion, for example executives and employees talking about their company or customers promoting their (positive) experiences.
Screencast videos. These are ideal for featuring product user interface (UI). If you've ever seen ever seen google's series of AdWords tutorials, these show the AdWords complete user interface and highlights key features and value of the product. Examples are always a great way to formulate an engaging narrative through key examples and an engaging narrative.
7. Video Email Marketing
This is the holy grail of the trending email and video marketing combined. Email video marketing is means sending emails with video content to people interested in your business. These can take form of the various types of videos previously discussed, but to generate conversions try to include key call to actions such as 'download' or 'register' now.
The world of video is rapidly changing, so we'll ensure to keep you updated on the the latest terms, features, and trends.