By Laia Cardona, on 28 November 2016
Another year over, and another crucial moment for marketers closes in: the time to put the final touches on our marketing plans and budgets for this upcoming year. Time flies when you're having fun, doesn't it?
To meet your marketing goals in 2017, you need to be an expert in the market's trends and new data. It's the only way you can stay ahead of the curb of the constant changes that take place, and design the strategies that will drive you all the way to success in this new year. To get you started, I would like to share with you today the top social media marketing data of 2017.
The top 10 'must-knows' for social media marketing in 2017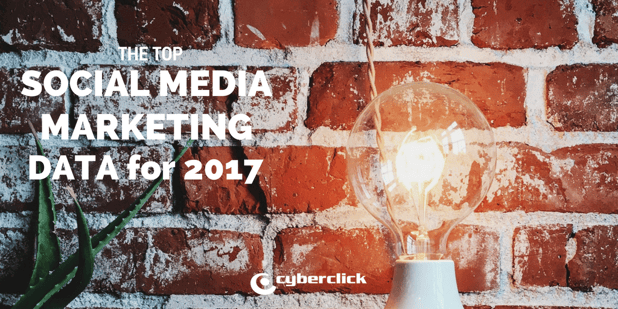 1) Marketing on social media grew 55% from 2014 to 2015
Social media simply does not stop growing, and advertising budgets dedicated to these strategies grow along with it. According to data from AdAge, marketing departments in the US invested over 10.9 billion dollars in 2015, which represents almost 20% of total advertising investment.
2) Ad Spend on social media will reach 14 billion dollars in 2018
If there is any prediction we are sure of, is that the use of social media will continue to grow, and that they will continue to become increasingly more influential in consumer behavior. For example, according to Marketing Sherpa, 46% of millennials trust social networks with their online shopping. Which is why the incredible opportunities offered by Social Ads to reach out to our ideal audiences are so interesting.
3) Around 3.2 billion dollars will be invested in Instagram marketing in 2016
Within the world of social media marketing, we have seen a few networks that have trended over the past years. This is precisely what happened with Instagram, which has quickly become the most important social network to no less than one third of American teenagers. So much so, in fact, that experts predict that the network will attract an investment of 32. Billion dollars this year.
4) 16% of marketers will increase their use of Snapchat
Speaking of trending networks, Snapchat is another of this year's big hits. Currently, only 5% of marketers have incorporated Snapchat into their social media strategies, but, according to data from Social Media Examiner, 16% plan to increase their use of this network, and 28% want to learn more about it.
5) 65% of marketers plan to increase their use of Facebook and YouTube
It seems that no matter how much changes, the social media giants continue to thrive like never before. When contemplating their upcoming social media plans, it seems marketers continue to consider Facebook and YouTube very important.
6) 90% of marketers witnessed a positive impact on their ROI due to social media
It is now more than say to safe that there are no questions left: marketing on social networks has more than proven to be a profitable investment. So much so that Social Media Examiner confirms that 90% of marketers consider their time on social media to be very well invested.
In terms of how much time they invest, 80% of respondents said that spending at least 6 hours per week on this type of marketing showed positive results in terms of both traffic and brand awareness.
7) 70% of marketers use social media to improve brand loyalty
Studies have shown that users who are loyal to a brand attract more sales and more traffic. Social media makes it very easy for marketers to maintain and nurture that loyalty with content. Which is why it does not comes as a surprise that almost 70% of marketers use social networks to create a fanbase and gather market data (according to Social Media Examiner).
8) Marketing and engagement techniques are 90% of marketers' main concern
Within the realm of social media marketing, engagement tactics and techniques are what marketers most concern themselves with. To be able to live up to these expectations, social media platforms offer audience customization options as a way to increase engagement.
9) 50% of marketers will use live videos in their strategies
Thanks to technological advancements, live videos on social networks are here to stay. In fact, Social Media Examiner tells us that 1 in every 2 marketers are considering incorporating them into their strategies.
10) 93% of marketers already use social media marketing (Source: The Fast Company)
Don't let your social media marketing strategy fall behind in 2017!
Laia Cardona