According to a study developed by Gartner in 2015, the app market has reached its maturity phase and users seem to be satisfied with the daily use. We are dealing however, with very dynamic consumption patterns which are highly influenced by marketing effort, seasonality and the simple and inevitable evolution of users' needs.
As we have already said here on this blog, there are very good reasons for you to be using a mobile app in your digital marketing strategy. To be able to use this market's dynamic nature in your favor, you need to know exactly which are the right sales channels for you to be using to promote your app among your potential users.
And so, I would like to share with you today the perfect sales channels that will truly make all the difference to your mobile app engagement.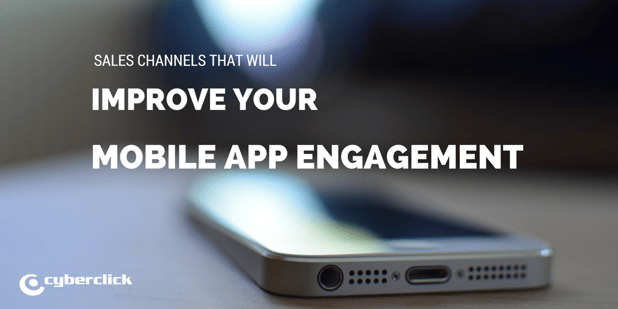 Before getting started: Define your goal and your audience
In order to be able to pinpoint the best channels to promote your application, you need to be very sure of your answer to these two following questions:
1) What is your goal?
The whole process of building an App Marketing strategy goes through several phases, and the first thing you need to do is define the goals you are looking to achieve in each sales channel. Here are some suggestions:
Diffusion: making your app known among your target audience and interested users.

Increasing your app downloads.

Getting free users to subscribe to your Premium plan.

Encouraging users who have left your app behind to return.
2) Who is your audience?
Or, in other words, what kind of people do you think are interested in your app and how does it fit in with your potential clients?
If you haven't done so yet, this could be a good moment to define your buyer persona: an imaginary person who fits your ideal client profile and on whom you can focus your marketing efforts.
When the time comes to design said buyer persona, be sure to include at least the following categories:
Demographics:

age, gender, income, where they live, with whom they live, etc.
General profile:

career history, family situation, interests, …
Identifiers:

What is their personality like?
Goals, challenges and needs

when it comes to using your app.
What the app can do for them.

What their

motives

would be in engaging with your app.

What you want to tell them (sales and marketing messages).
Email marketing: for multi channel mobile app engagement
Although it is one of our favorite, timeless sales channels, the truth is that email marketing continues to be one of the best lead generation and user retention methods, as well as in terms of return on investment.
Email marketing is an efficient way not only to generate expectations and excitement in new audiences, both before and after the launch, but also to keep your users up to date with all your news and improvements.
If you decide to use it, be sure to keep these tips in mind:
Adapt all messages and communications to

mobile formats

by using responsive tools. Don't miss out on conversions because an unattractive or unintelligible design!

Make sure all of the

creative elements

included in your emails are unique and original to maximize your impact.

Optimize the

downloading process

from directly within the email to make it as easy and straightforward as possible.

Don't forget the

following steps:

if you used an emailing campaign for your app's launch, keep using this channel to keep up your user retention and communication during every step along the way.
Social Networks: choose the most appropriate one for your target
Facebook: 1 billion users at your fingertips
In terms of user attraction and acquisition, it is quite obvious that the more users you have access to, the better. In this domain, no one even reaches Facebook's heels, with 1 billion unique users who access the network from their mobile devices.
You can use Facebook's potential to your advantage and add it to your app sales channels through their Mobile App Install Ads.
This format is designed specifically to increase app installs, making it the perfect way for you to achieve your goals. You can also use this network's custom audiences to get directly to your target.
Twitter: perfect for apps that are all about 'the now'
Twitter has been a mobile-based network for years, making it an extremely appropriate sales channel for apps. It is particularly interesting if you app is connected to 'the now' and to sports, as well as when reaching out to a somewhat more mature audience with higher purchasing power compared to other networks.
As for Twitter's advertising solution, Twitter Ads, it allows you to promote your app in several ways, depending on your objectives. The ads published on this platform behave and look just like normal tweets, but include bigger images and CTAs.
Instagram
This leading social network in photography has an extremely visual, young and artistic audience. It is the second biggest social network in the world, with 500 million active users. Its advertising platform is integrated with Facebook's, which offers very interesting cross promotion opportunities. Another one of its advantages is that it is not yet as overwhelmed with ads as other networks: there are currently over 3 million companies advertising on Facebook, but only 200,000 on Instagram.
In-app Cross Promotion
Last but not least, a useful option for companies who have different apps in the same category: in-app cross promotion.
The idea couldn't be any simpler: it's all about exchanging app promotions between apps to reach out to each other's audiences. Its main advantages are that it makes it very easy to optimize user databases as well as being a cheap way to acquire new users.
The great disadvantage in this technique is that it may come across as intrusive and annoying yo some users, especially if they have paid for premium service. This is why we consider it somewhat of a double-edged sword, which does not work in every case, and cannot be used as a substitution for other methods.
Nevertheless, it may prove useful as a complementary strategy, especially for companies who are in the mobile gaming industry, for example.
Albert Moreo