As we said at the beginning of the year, 2016 is, without a doubt, the year of the mobile application outbreak. Incorporating apps in our digital marketing strategies lets us literally make our way into our target audience's pockets, but in order to succeed, we need to create desired, attractive applications, segment our audience accordingly and work on user retention.
And so, for you to continue improving your app marketing strategy, I would like to share with you today's most successful and best mobile apps, and take a look what they all have in common - where their success lies.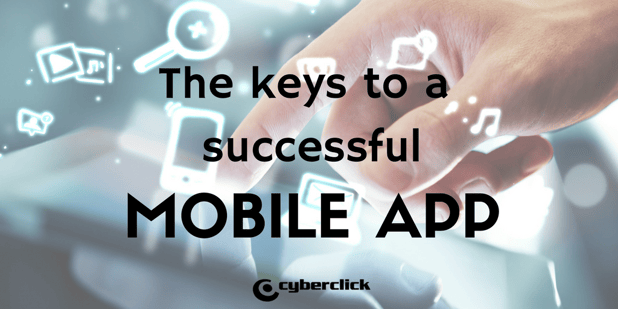 The most popular mobile apps of August 2016
Let's start by taking a look at which and what were this summer's best mobile apps, that were most successful among the large sea of app users. There is an interesting mix of new phenomenons that may come as a surprise, and everyday apps that have become a 'staple' in our day-to-day lives. In terms of sectors, we see that leisure, social networks, education, news, navigation, photos and videos stand out from the crowd.
Most successful apps for Android
Whatsapp:

the instant messaging app that has taken the world by storm and changed the way we communicate, create relationships and share content with our family and friends.
Pokemon Go

: If you don't know this app, then you must have been spending your summer in hibernation, cut off from society. In a matter of mere weeks, Pokemon Go became a mass phenomenon and giving rise to endless business ideas that combine physical and virtual realities. The future has arrived!
Messenger:

another instant messaging classic that makes the most of the masses of friends we already have added on Facebook.
Flip Diving:

A trampoline jumping game which combines the Olympic fever of the moment with super fun mechanics.
Rio 2016 Olympic Games:

to keep everyone up to date with everything that is going on in this competition, with a very simple interface and practical notification system.
Most successful mobile apps in iTunes
Flip Diving

: it seems both Android and Apple users alike were unable to resist this game's allure.
iTunes U:

Teachers have gotten very serious about preparing their classes for this semester, turning this application into one of the most downloaded app of the month.
Google Maps:

another app which over the past few years has become an absolute essential in our day to day lives.
Instagram

: the most visual social network continues to rule the world.
So what do the best mobile apps have in common?
1) They connect people
Instant messaging apps, such as Whatsapp and Messenger, work because they generate continuous engagement through notifications from our favorite people. They feed off of our need to remain connected to the world and once all our friends have it, it becomes very hard for us to uninstall it.
2) They take full advantage of the potential in social media
Instagram has been around for quite a while, but continues to be one the most downloaded apps. Why? Because we continue needing to share the special moments in our lives with others, and this app lets us do it in a simple, visual and quite addictive fashion.
3) They are connected to reality
This month we can see two cases of applications that make the most of a current global phenomenon: the Olympic Games. Both Flip Diving and the Olympics' own app have made their way to the Top 5, but in two very different ways: the former is a fun game that continues to make sense and be relevant after the event, while the latter focuses exclusively on the 'now', and will die out after the Games are over.
4) They promise fun!
One of the most effective user retention tactics is to make an app fun! With its addictive nature, Flip Diving got countless people hooked on the game, and for them to tell their friends. And Pokemon Go, of course, has become millions of peoples' new hobby.
5) They become mass sociological phenomenons
These apps' phenomenons goes far beyond our screens: some of them are able to change they way we communicate, and even the way we see and interact with the world around us. Just look at the whirlwind Pokemon Go has created this summer, or at how Whatsapp and Messenger enable us to stay in touch with our groups of friends.
6) They bring back the old
Pokemon is a brand that is over 15 years old, but has managed to make their comeback into our current lives. It takes advantage of the nostalgic feelings of the brand to win over the grown ups and get fathers to get their sons on board. But it is not the only app to believe in the "update or die" philosophy: Whatsapps constant improvements and updates and Instagram's 'new face' guarantee them their reserved spot in our phones and lives.
7) They use new technologies
Another lesson to be learnt from Pokemon Go: making the most of an up and coming technology like augmented reality, and making it available to everybody.
8) They make our lives easier
Google Maps is the most complete navigator out there, and has gotten everyone to install it on their phone. iTunes U has a much more specific audience, teachers and professors, but also made its way to the top by giving them everything they need to teach a class from an iPad. Basically, it's all about identifying your target's needs and finding a new way to satisfy them.
9) They update constantly
The constant updates and improvements are a winning strategy to get users hooked and avoid them getting tired of our app. Without them, it has been proved that an app's usage decreases after 30 days, so be sure to give your users a reason to stick with you!
10) They have the best marketing strategies
Creating the best mobile apps is not just a matter of design and programming: it is essential to have good diffusion and brand awareness strategies. If you want your app to stand out from the millions of others in the mobile app stores and for it to make the top downloaded list, you have to make it known through digital advertising and making the most of social ads.
Héctor Borrás