Are you ready to succeed with your mobile marketing in this big new year? Time flies by fast, and it is essential to always stay uptodate with the latest trends in order not to miss out on any new and exciting opportunities. So, if you want your mobile brand to be on point this 2017, don't miss these 4 key points for mobile marketing in 2017!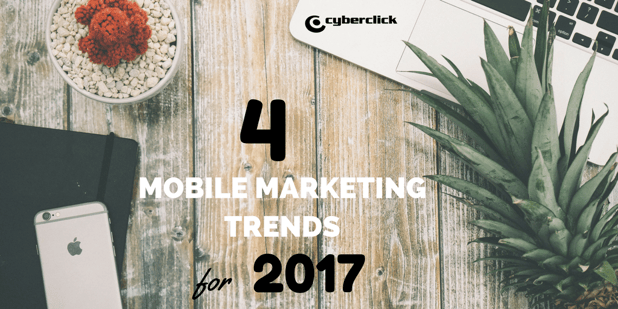 1) Mobile searches
Mobile SEO is vital if your goal is to increase your brand's visibility. In 2015, Google confirmed that mobile traffic had overtaken desktop traffic for the first time ever, and this trend has only grown since then. A good mobile marketing strategy can never forget that your users are searching for you on their mobile phones, and you need to be there for them!
In order to improve your mobile SEO, the first thing you have to do is to make sure your website is 100% responsive, guaranteeing your design will seamlessly adapt to any kind of device. This will not only benefit your positioning on Google, but it will also avoid your losing clients due to a poorly functioning website.
The next step is to figure out what people most frequently search for on their mobile devices related to your brand. With the help of keyword tools, dig deep into the most searched for keywords on these devices and figure out how you can solve your users' needs with your content.
2) Mobile purchases
Some great news for mobile marketing in 2017 is that users are more confident than ever in using their smartphones to pay. If you want to take advantage of this trend, make sure your company is prepared to receive and process mobile payments.
Social networks like Facebook, Twitter and YouTube have already integrated "Buy Now" buttons that allow users to pay and purchase directly from their timelines, instead of having to be redirected to an external page. Given that the user does not have to go through a long list of steps to confirm their purchase, it significantly cuts down on potential distractions, making it much less likely for them to abandon the process along the way. Logically, all this translates to higher conversion rates.
Mobile purchases are an incredible opportunity to reach out to users at the precise moment when they are ready to buy, with as little distractions as possible. As this tool become more and more popular, in 2017 we will see it become a part of many brands' mobile marketing plans.
3) Brands with mobile apps
According to a recent study by Gallup, 72% of americans take a look at their smartphones at least once and hour. They spend a very large majority of this time (up to 90%) interacting with apps. If your brand does not yet have an app, now is the time!
Having a mobile app increases interaction with your brand, offers a clear and easy path directly to leads and client data, and gives you new ways to connect with your audience. Thanks to the astonishing popularity of this tool, designing and developing mobile apps has become easier than ever, making it a great option for even small and medium sized companies.
If you decide to include a mobile app in your mobile marketing strategy, remember that promoting it properly is essential. Here on our blog you can find a guide to creating your App Marketing Strategy.
4) Social media for mobile
Last, but certainly not least, the fourth mobile marketing trend that will take off in 2017 is social media for mobile. If you have not yet incorporated app like Periscope, Snapchat or Instagram, into your mobile strategy, now is the time to do it.
For your social media marketing to work, personalization on each platform is key. Be sure not to publish the same content on all networks at the same time, or you will run the risk of driving away your followers and friends. Instead, bond with them by publishing real time photos or videos, that will get them used to your brand's day-to-day life, philosophy, experience and personality.
And, of course, do not forget to measure and monitor the results from all your social media channels to discover what content really works, and continuously optimize your brand's communication.
David Tomás