By Laia Cardona, on 04 October 2017
Estimations say, by 2019 social media will see 17,000 million dollar investments from US firms alone. Social media isn't only a US phenomenon; globally social media plays a key role in digital marketing strategies.
Although sites like Facebook and Twitter gained prominence by end of 2006 and we've had 12 years to adapt, marketers are falling into the same mistakes time and time again. We've put together 3 key points for self-analysis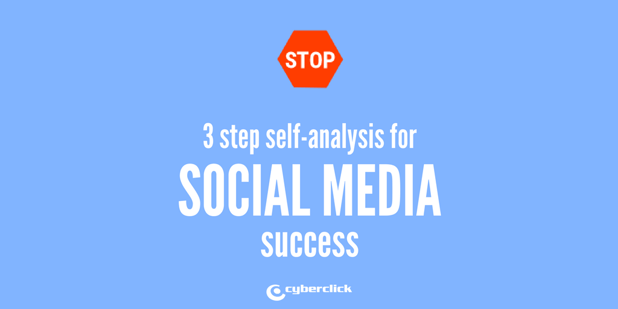 Stop, take a breath, and dedicate a moment for 3-step reflection
1️⃣

Clear Objectives 🎯
When setting up your digital marketing stategy, it's clear that social media will play a key role. Often firms go from a non-existent social media presence to an active multi-channel marketing scheme. In the hustle and grind we tend to get carried away thinking we have to be present in all channels at all times. We forget to take a moment, and critically think about why.
'Why' is an important question to ask when it comes to focus. 'Why is this channel important to achieving our overall goal?' and 'Why is this channel relevant to our target audience' Focus is essential for achieving results, and saving time, money and efforts.
Choose your channels carefully, each comes with unique characteristics:
2️⃣
Measuring Results

📈
Tying in with the previous points, measuring results requires having clear objectives in order to understand what to measure. Measure what is relevant to achieving your objectives. Don't limit yourself to measuring likes and followers, because at the end of the day these numbers won't tell you about the overall performance of the firm.
Measurable outcomes keep us on target. For long lasting success, understand where it comes from. Find your strengths, and focus on them, otherwise you may be wasting time, effort and money blindly seeking for success.
Establish an analytical focus through KPIs (key performance indicators). These metrics are great indicators for reaching targets. Each firm should establish their own unique KPIs, however a few to keep in mind include:
ROI (return on investment)
Average sales per client
Number of sales per client
Conversion rate: visitors to leads
Conversion rate: leads to sales
Cost per lead
Life time value
A great way to find out what is and isn't working is through A/B tests. If you want to optimize your budget, it's important to fully understand and make use of A/B testing.
A/B testing involves launching two identical versions that are only different by one variable (ex. the web page title or the color of the CTA button). After a specified period, results of these two versions are compared. Small changes can lead to significant improvements, and continual testing leads to long term success.
3️⃣
Calculated Publishing 🕚
Selectively choose your content, timing, and channel. We've established the importance of focusing your social media channels and avoiding the urge to be in too many places at once. Content and timing play a key role in finding the balance of reaching your audience without overwhelming them. The golden rule of 'quality over quantity' is good to keep in mind.
Social media publishing should be backed by a well-structured content marketing strategy focused on adding value to consumers. Publish less, say more and ultimately add value. Aim for higher engagement per post as opposed to just higher quantity of posts. Have an engaging conversation instead of reciting a monologue.
When it comes to timing, be strategic. The same content can generate very different engagement results purely based on the time and day of the week posted. Test out to find optimal timing for your target market segment. Keep in mind that each channel has its own 'dead hours' with varying waves of traffic. Twitter for example, has the lowest CTR during the first morning hours.
Now's the time to start. Take a moment and dedicate it to self analysis. Setting clear objectives, measuring results, and calculated publishing give a solid start for improvement.
By Laia Cardona
Translated by Jessica Bubenheim