By Jessica Bubenheim, on 07 November 2018
Have you already included influencers in your marketing strategies? These socialites have the power to create and multiply word of mouth, since their social authority makes them the source of recommendations for many users.
In recent years, we've seen people around us becoming famous seemingly overnight, online through a social network profile. This phenomenon is has only been increasing with time.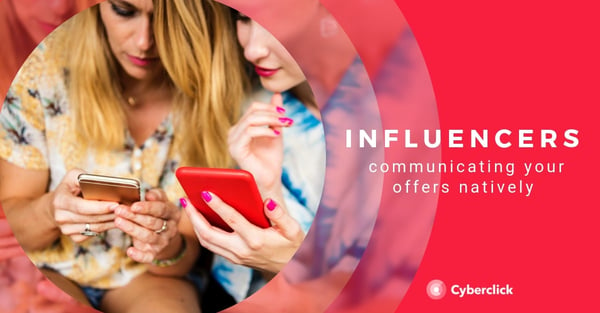 Social networks are increasingly integrated into our lives and individuals with potential to influence their large numbers of followers (influencers) are the kings and queens within them. This generates, of course, commercial interest. Influencer marketing first saw its boom in 2016. So, advertisers began to invest in the most sought-after profiles, achieving incredible results. Influencers have a great advantage in today's world of advertising, they are immune to the obstacle of Ad Blockers, currently being used by over 47% of online users.
What is influencer marketing?
It is a marketing trend that is based on sponsoring key profiles of influencers in social networks. What advertisers aim for with influencer collaborations is to create associations between the brand or product and users favorite 'local socialites'.
The world of influencers: what's the current stance?
Influencers are considered the most reliable source of social media content (most of them make an average of 4 publications a day, as regards Instagram). Active influencers find themselves at the center of an active audience, with international influencers seeing multiple publicity spikes throughout their 24h day.
In addition, there are influencers for all audiences: from yoga gurus to famous animals. A good example is itsdougthepug, a carlino dog that has 2.8 million followers on Instagram.
However, more and more of millennial influencers are approaching the "lifestyle" segment, which makes them have a much wider audience. A wider audience means a wider potential to market a diverse array of products, and the more brands they can collaborate with.
Influencers are modern day celebrities, yet they are much more accessible than a coveted athlete or a pop star. They are simply millennials who 'know what's good', and so have an incredible audience reach power.
Influencers tend to take great care of their audiences and take special care not to appear "sponsored". In this way, they become a kind of "inexhaustible source" of mass marketing without coming off intrusive. As influencers know the importance of staying true to their audiences, they offer valuable content - often in the form of contests or funny videos.
Influencers with a large number of followers but not large enough to appear "sponsored" or having commercial intentions are known as micro influencers. If Beyoncé recommends a product, we immediately associate it with advertising because she is an almost unreal character. The same thing has begun to happen, on a smaller scale, with influencers such as Chiara Ferragni. People interpret the messages of these micro-influencers as sincere advice and, therefore, the publicity they make is very efficient.
Trending in influencer marketing
It is a very new practice and, like all new beginning, for many advertisers it may seem risky or expensive (some of the biggest influencers charge thousands of euros for an Instagram post). However, these advertisers do not realize the value they get in return - a great impact at a much lower price than in any medium. Most importantly, the audience is highly segmented and loyal.
Trends worth trying within influencer marketing
Videos. Promos in the form of video, consisting of the influencers using / consuming the product in front of the camera and talking about it. It is seen above all on YouTube. There are also cases of this trend within Instagram, especially in Stories format which makes the influencer seem less "sponsored" (since it does not appear in your profile permanently).
Micro-influencers. By having a high degree of engagement with their followers, the marketing collaborations made with them are highly effective.
Live-video. Influencers can interact with users in real time, whether they are at an event, at a festival, on a set or on the couch at home.
Interactive Advertising Bureau study on influencers in your Facebook, Twitter, YouTube and Instagram marketing strategy
If we were to draw on one conclusion from the entire study, it would be that influencers have a great weight among users, with 85% declare their loyalty to social media figures. This percentage is even higher in the case of women, with 88%. As for their user engagement habits, 71% passively read the content they publish, while 29% proactively share content with their own followers. An interesting fact is that, although we tend to think that young people are always more active in social networks, the truth is that people between 40 and 55 are more likely to share this type of content, since 34% do so .
When users were asked "what topics should influencers publish content on?", 16% responded that their favorite influencers share post on current affairs, followed by politics and then society. Also important are fashion (13%), sports (13%), technology and computing (8%) and music (7%).
How to take advantage of the influencers in your marketing strategy?
Influencers on Facebook. The power of this social network is demonstrated by the fact that 63% of respondents use Facebook to follow influencers. Facebook is a space where users turn to thought leaders in their areas of interest to publish sponsored content on their pages.

Influencers on Twitter. 34% of users follow influencers in this network. Since most users publish their content publically, it is very easy to take advantage of the viral power of the retweets to get your message across.

Influencers on YouTube. Although only 20% of respondents follow influencers in this network, do not underestimate the power of YouTubers. 'Social Expert' reviews and cross-channel collaborations can be key to your brand's strategy.

Influencers on Instagram. In the social space of image sharing on instagram, 17% of users claim to follow influencers. Influencers are especially popular among women (23%) and in the age group of 16 to 30 years (27%). Collaborate with the influencers within this network to show the most 'photogenic' side of your brand.
Influencers and Endorsements: where is the line between influencer marketing and ads that take personalisation too far?
Influencer marketing is evolving, marketers are discovering more engaging ways for reaching customers. Widespread data collection and sharing have become the biggest asset to the modern marketer's toolkit. Marketers have unprecedented 360 degree individual customer insights. Ads are flawlessly serving individual needs and Ad design is becoming increasingly intuitive to users. We've reached a state where distinguishing advertising from other content has gotten tough.
This makes us question- to what do we owe the success of influencer marketing? is it the intrinsically compelling content? Maybe. Often influencer marketing techniques targets unalert customers when their mental ad avoidance strategies are off-guard. When users think they are processing agendaless content, they perceive it differently.
This excerpt from the University of Georgia study shows that very few participants recognized a native ad article as advertising, irrespective of disclosure condition. Overall, less than 8% of participants, 17 out of 242, recognized the advertisement.
(Journal of Advertising, 2017)
→ Native Advertising: How to be native
→ Native Advertising: How to start a campaign
From a design perspective, the table shows that middle or bottom positioning and wording using "advertising" or "sponsored" increased advertising recognition and this recognition generally led to more negative evaluations.
Will influencer marketing continue to succeed in the face of conscious consumers? How do digital marketers draw the line - when is a personalized ad welcomed and when do users block them out.
Social scientists have looked into privacy concern triggers that can help marketers evaluate when personalization has gone too far.
Here's what not to do:
use information obtained from third-party website

use inferred information about the customer (ex. information about pregnancy)

'talk about people behind their back'. If you feel comfortable disclosing information to a friend - "first-person data sharing" - you would probably feel uneasy if they passed that info along to someone else without you knowing - "third party data sharing".
Instead consider this:
use only information obtained from the site on which the ad appears

listen to your specific consumers privacy concerns and expectations carefully and honor them
→ What is Native Advertising? Advantages and success stories.
→ Three striking examples of Native Advertising
It's not all bad news, there's a way to consumer- advertiser harmony.
Harvard Business Review has outlined 3 factors that help you marketers make the best out of influencer marketing - for both consumers and promoters.
Trust. Offer voluntary ad transparency. If your allowing your consumer to see: "Why am I seeing this ad?" you're on the right track.
Control. Consumer privacy concerns arise when they feel like they're losing control of their data. Looking at the friend example again, you would want to dictate who you tell your secrets too, and wouldn't want a friend going gossip girl on you. Offering users meaningful control over their information will likely improve ad performance.
Justification. Allow users to see the value of targeted native advertising by justifying why personal data has been used to generate this ad. Here authenticity is vital. You should rethink your intentions and your ad If you yourself are having difficulty coming up with a compelling reason for the way you use consumers' data.
Try looking to the offline world to understand Where the Line is Between influencer marketing and ads that take personalization too far. Keep your focus on adding value for your customer - if your thinking customer centric, they will thank you for it and it will pay off.