After the prize Best Work Places Pymes 2014, many have asked about the secret of happiness in the company. Actually, it's no secret: we all have some idea about what things make us more or less happy, what things we can do to improve the work environment for employees.
In Cyberclick we do many things to try to improve the happiness of every one of the people who form the company. From celebrations in the snow to internal trainings, also going through things as simple as empowering people and valuing their achievements.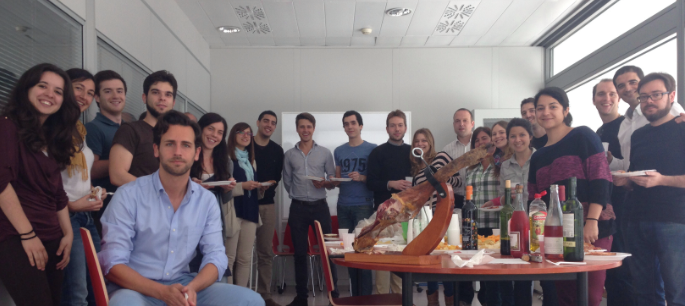 The "jomonada", a traditional celebration in the office.
However, there is one basic thing without which none of this would make sense, and this is the measurement of happiness. What good is making efforts to create happiness if you do not ask people which things they enjoy more or less? How can we eliminate negativity and things that upset us if we cannot quickly detect what caused us unhappiness and act accordingly?
For all this, we try to measure the level of happiness of all employees continuously. Every day, when we approach the end of our day, we receive an e-mail titled "Before you go ..." which contains three questions:
1. In what mood did you enter work today?
2. What mood are you leaving work today?
3. From 1 to 4, how much did you enjoy what you did today?
Three simple questions, which are answered in two minutes but they bring us a lot of information to promote and improve aspects of our daily lives. And at the end of the form we have an open space where we can make any contribution, explanation, idea, etc. The questionnaire, adapted to each season, is always accompanied by some famous quote or song, helping to end the evening in the best way possible.
Every Monday, before starting to address the priorities and objectives in our weekly meeting, we spend time analyzing the results of our daily test of happiness. Colloquially, we say that we analyze "the traffic light" because we see the amount of red, yellow, green and super green feelings recorded during the previous week. Among all we try to clarify the reasons that have led us to be more or less happy and always we see if its possible to do something so that the coming week is much happier than the last.
In addition, once a month we respond to the "Test of monthly happiness", in which we try deeper issues such as pay, labor conciliation or relationships with peers.
This allows us to be much more aware of our colleagues moods (and even our own, sometimes we do not pay all the attention that it deserves) and react quickly and decisively to problems.
This is our way of measuring happiness, but there are many others. For the campus Rocket Space in San Francisco, just press the button that best expresses your mood before leaving. Another idea is to use the Luxafor indicator (invention by the Draugiem Group), a small LED light you put on your computer screen and indicates to colleagues when they can talk and when not to, depending on your level of work and concentration. In fact, there are already companies that are dedicated to creating, successful, applications and devices for measuring happiness, as is the case of Celpax.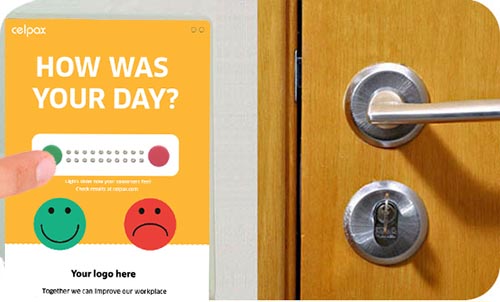 As you see there are many options to find out how employees feel and share improvements in collective happiness. Do you dare to implement it?