Did you know that 2016 is the year of the outbreak of mobile apps? More and more brands everyday are opting for including mobile apps in their digital marketing strategies. A good design and user experience are key to conquer a user's smartphone, but creating an awesome app is only half the job done: you also need to have a great promotion plan up your sleeve to make it known.
To get mobile app installs you first need to make yourself visible to the users of your target audience. One of the best ways to do this quickly and cost efficiently is advertising on social networks. This is why I would like to tell you today about all the secrets to getting more mobile app installs by using social ads on Twitter, Facebook, LinkedIn, Instagram and more.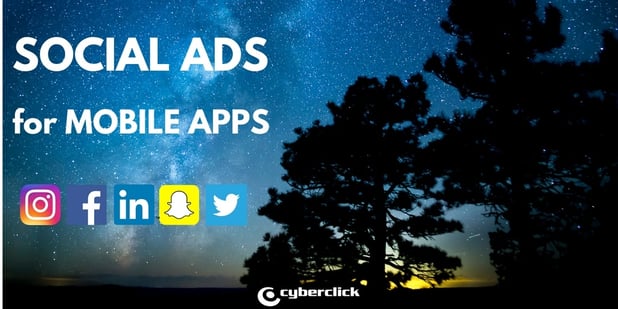 More mobile app installs with ads on social networks
Increase your mobile application's downloads with Twitter Ads
Over 80% or Twitter users access it from a mobile device. According to the latest studies carried out by Research Now, these people use apps 24% more than other smartphone users. They are, undoubtedly, a great audience to promote your app to, with the advantage that they can even download the app directly from the ad.
Twitter Ads offers a specifically designed format to promote mobile applications: the app cards. With this type of ad, users can view an app's rating or preview images or videos directly.They also adapt to the type of device they are being shown on (iOS or Android) and are not visible if the user is connecting from a desktop. Advantages, advantages, advantages!
To get your app promotion campaign on Twitter started, you need only to follow these steps:
Configuration.

Name your campaign and decide its duration.
Audience.

Choose your target audience wisely and you multiply your chances of success. You can segment according to demographics, devices, users followed, interests, keywords, users registered in conversion pixels, Wifi connections or even by categories of the apps they already have installed. There is a whole world of possibilities!
Budget.

Decide your campaign's total budget and choose whether your prefer automatic bidding, fixing your target expense per click or install or establish a maximum expense level.
Creativity.

Personalize your campaign's texts and images to your taste and try different versions to improve results. If you really want to take your campaign up to the next level, don't miss out on the opportunities offered by new

artificial intelligence

systems.
How to use Facebook Ads to improve app downloads
No matter how many apps have been launched over the past years, Facebook continues to be the indisputable leader in terms number of users, with a dizzying total of 1,590,000,000 active users every month. No matter what your mobile app's target audience, you are sure to find it here. On top of it, ad prices tend to be lower than Twitter's and at the moment, Facebook Ads is number one in terms of achieving paid app downloads.
Like Twitter, Facebook offers specific ad formats to promote applications. In this case, you can choose between increasing your app's installs or increasing your app's engagement. In both situations, you will have to configure the following settings:
Type of device and operating system: iOS or Android.

Optional URL tags: to identify traffic coming from different types of ads.

Application name: a good name is worth more than a thousand words ;-)

Text: a tagline that briefly explains what your app is for and why people should download it.

App icon: Choose a square image that will be easy to recognize.

Picture used on ad: One of the key factors to attract mobile app installs. Try out different ones and optimize your ad according to results.

Follow-up of conversions or events, to analyze how the user behaves once they have downloaded the app.
Instagram Ads for mobile applications
Since Instagram implemented their new advertising solutions in September 2015, it has become an extremely interesting option for brands who wish to advertise their content. Their ads are very economically priced, as well: the average cost varies between 0.05 and 0.15 euros per click.
As with Twitter, Instagram is a highly mobile network. To make the most of it, choose its app install specific campaigns.
Instagram Ads and Facebook Ads share one same advertising interface, meaning you can coordinate campaigns between the two and even use the same segmentation options, including more advanced features such as customized audiences. Moreover, you can use the carousel or image playback formats to create extremely visual and appealing ads.
Promote your application with LinkedIn
If you app is made for the professionals of a given sector or industry, LinkedIn can be a great place to promote it. This network offers three different promotion options:
LinkedIn Marketing Solutions

(to create graphic ad campaigns)

InMail LinkedIn

(email marketing using this social network's email base)
LinkedIn Ads

, an advertising option similar to that of other such as Twitter or Facebook
Within LinkedIn Ads you can create text, image or video based ads that will be displayed on the right hand side bar while a user navigates through the network, or you can invest in promoted news. Customization is one of this tool's great perks, as you can choose from over 100 different criteria for each campaign.
Advertising on Snapchat
If you are targeting a young or teenaged audience, do not miss out on the opportunity brought to you by Snapchat: 150 million people are already using it to view 10,000 million videos every day- Its new advertising solutions include the possibility of encouraging users to install an app. Brand such as Universal Pictures, Verizon, Warner Bros and Spotify are already using Snapchat's ads, so join them and try it out!
Berta Ventura