By Nerea Boada, on 23 September 2015
LinkedIn is, today, the most important and most used social network for professionals worldwide. There is not one large company or professional does not have a profile on LinkedIn. It is therefore not surprising that more and more companies choose to advertise on the network. Achieving success and desired objectives with an advertising campaign in this network is not an easy task, it requires a lot of knowledge about the main features of LinkedIn, to squeeze the most out of this platform for professionals. Therefore, in the post today I bring you the essential guide to advertising on LinkedIn. Take note if you want to succeed with advertising campaigns for your business!
Before starting an advertising campaign here it is important to consider a number of preliminary questions. What is my budget?, How much am I willing to lose on my advertising campaign?, What is the main goal of my campaign on LinkedIn?, How many 'Call to Action' (CTA) will I include in my campaign?, What is the net value of the income generated by each customer? Once we have responded to this set of issues, we can launch our advertising campaign on LinkedIn. Note that the CTR of advertising on LinkedIn is not very high. Therefore, we recommend using this network to advertise the B2B and B2C companies with a very defined product and target, thus getting only reach from the audience we want.
Aspects to consider when starting an advertising campaign LinkedIn
LinkedIn allows you to set a maximum budget for each of the advertising campaigns that you begin. The budget can range from $10 to the desired amount, the company can allocate a fixed amount LinkedIn campaign, referring to the indicative results for the platform that establishes the amount determined for the advertising campaign.
The network provides two different types of payments. The first is the CPC (cost per click). Here, the advertiser pays for each click someone makes on your ad. In this type of auction, in addition, the advertiser is free to set the maximum amount you paid for each click on your ad. On the other hand, there is the possibility to pay for the CPM. That is, the advertiser can pay for each 1000 impressions your ad receives.
2. Measure the performance of your ads (CTR)
Once the budget is fixed and the ad is created it, it's time to measure its performance to see if it is doing well or if some aspect of the announcement should be amended.
Achieving a higher CTR on a LinkedIn advertising campaign is important, you should renew the ad at least once a month. The platform rewards ads that are renewed regularly, increasing the CTR of them. The average CTR on LinkedIn is 0.025%. To get a higher CTR, you can modify the ad more than once a month, depending on your needs.
3. Follow-up on LinkedIn ads
To check the operation of an advertisement it is important to conduct comprehensive monitoring. To do this there are several methods and tools available on LinkedIn.
Create a separate page for each ad or duplicated destination.
Bit.ly used to develop the various advertisements and links, thus controlling the number of clicks you are getting each.
Use Google Analytics to measure the different results for each of the campaigns and set goals for each ad.
Use UTM parameters for each ad and thus you are able to carry out a thorough analysis of each.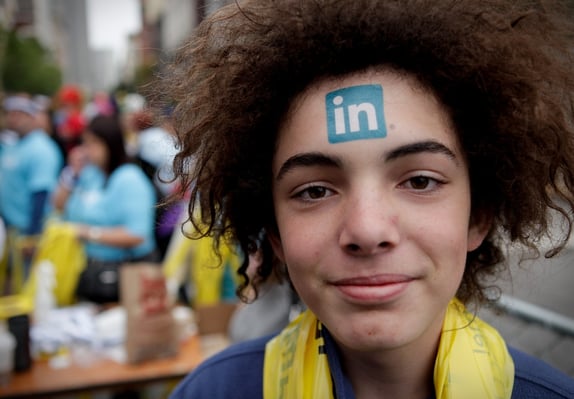 4. Try different targets to test the effectiveness of each
A trick to know which target works best in our ads is to run little tests, changing the target or different aspects in each of them. These variable aspects in each of the tests can be, for example, location, age range, size or type of company, among others.
In this way, the advertiser can keep trying different scenarios, each with a different variation, in order to establish the appropriate target for your ad and to obtain the proposed objectives at the beginning of the LinkedIn advertising campaign.
5. Case studies: how to succeed in LinkedIn and how not to
Succeeding with an advertising campaign is not difficult, you just have to follow the parameters that I have proposed in this essential guide for advertising on LinkedIn and a substantial share of time to analyze the results of each campaign; to identify mistakes and successes and make the most of every ad published in LinkedIn.
There are several advertisers that are advertising on this network and have achieved success with their various campaigns. Then the example of IBM, one of the companies that has taken advantage of the opportunities offered on LinkedIn to connect with users and potential customers set before you.
The technology company IBM is the company most followed on this platform. Its success lies in knowing how to maximize the opportunities for businesses on LinkedIn. Thus, on IBM's page we can find all kinds of posts, tweets and original and useful videos for users. In addition, IBM's account on LinkedIn has more than 300 job offers and interesting recommendations for their followers in this social network.
IBM is opposite to the profile of Mercedes Benz, a worldwide company that, despite everything, was unable to get the most out of its LinkedIn profile. Its publications are not defined to match the character limitations. Therefore, the message "show more" accompanies many different ads, an aspect that remains attractive to the ad and did not invite users to click on it.
By Nerea Boada and Judit Pan
Photo Flickr by 'A Name Like Shields Can Make You Defensive'