By Cyberclick, on 10 September 2015
Last night on September 9, 2015, the lights of Liceu in Barcelona and the stoves of 4 Michelin chefs were turned on to help the Casal dels Infants. This organization is based in the Raval district of Barcelona and is dedicated to accompany children and young people through difficulties or social exclusion. The collection was 45,000 euros and is entirely devoted to this non-profit organization. The event was dubbed the "Great solidarity night of Liceu" and one of the main pillars of the organization was
Lets Bonus
, which channeled nonprofit ticket sales. Congratulations on your great initiative!
The four Catalan chefs who delighted guests with their meals were: Carles Abellan, Albert Adrià, Nandu Jubany and Carles Gaig. The choir put music to the dishes and the evening was a marriage of food and harmony. The gazpacho with tomato tartar was served along side the melody
I got plenty o'nuttin
by Porgy and Bess opera,
La donna è mobile
by Rigoletto delighted the ears and palate while eating boiled egg with parmesan by Gaig,
Belle Nuit
of the Tales of Hoffman played with the secret pork by Jubany and, finally, the movement of
Brindisi
from La Traviata with dessert Opera Éclair by Albert Adrià.
Estela Viñarás was in the event on behalf of Cyberclick at the invitation of Emailing Network. She shared her table with business representatives Havas Media, Carat or RocaSalvatella, among others. In her experience, "It was a very emotional event with a great solidarity objective. Renowned chefs, large institutions such as the Liceu, all staff and catering service and Cor Gran Teatre of Liceu worked selflessly, so that the entire collection was achieved for the Casal dels Infants ".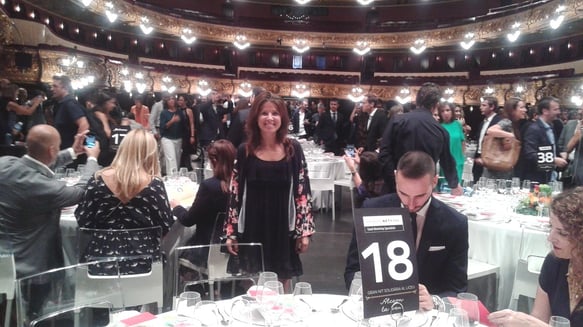 Cyberclick