By Cyberclick, on 22 May 2015
The XIII Campus of Entrepreneurs that organizes the accelerator of startups SeedRocket in Barcelona Activa is already underway. This time, it is aimed at projects that have already developed an early version focused on the Internet and mobile devices sector. In total there are 12 finalists who are receiving advice from industry experts and successful entrepreneurs who work with their business ideas. David Thomas, founder of Cyberclick and pioneer in online advertising, gave the lecture "Creating an entrepreneurial culture and an A Team".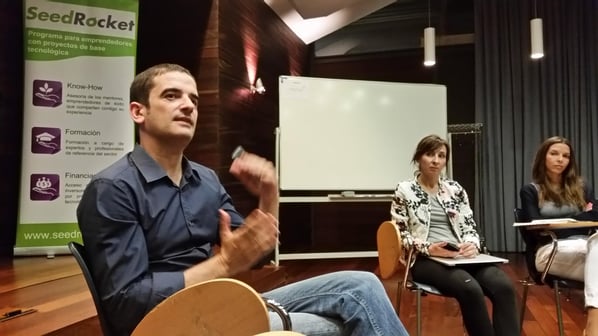 For five days, from Monday May 18th to Friday the 22nd Campus participants are being trained in all key areas that companies need to develop an online environment, such as digital marketing, communication, business online strategy, experience from the mentors and other entrepreneurs who have gone through the SeedRocket, legal issues, partnerships, management of people, teams and individual mentoring sessions with each startup to work directly on action plans.
Create an entrepreneurial culture and an A Team
On the morning of May 20 was the lecture by David Thomas, founder of Cyberclick and pioneer in the field of online advertising, which was entitled 'Creating an entrepreneurial culture and an A Team'. According to Tomas, "the culture of our brand is to be built by design, it is consciously designed by us, defining the values ​​that will be the flagship of the company. It is not advisable to let this be unconsciously created by default ".
In addition, the cofounder of Cyberclick advised startups how to better select new personnel that produce better results and have a profile A – of excellence - as it is one of the problems that young companies have in their infancy. Several participants asserted "that they tend to be successful only 30 or 40% of the time when choosing new people to incorporate into their teams." A low rate of success, but it can be improved if the selection process itself is completed with telephone interviews, knowledge tests, emotional skills and an assessment by the rest of the group.
In recent days there were also many presentations of great interest to the finalists. These included, "How to make a presentation to investors" by Jesus Monleón cofounder of Offerum, "How to seduce a Business Angel" by Luis Martin partner of Cabiedes & Partners, "Options of public financing" by José Pedro Tarango of Barcelona Activa and "Marketing in a Startup" by François Derbaix cofounder of SoySuper and TopRural.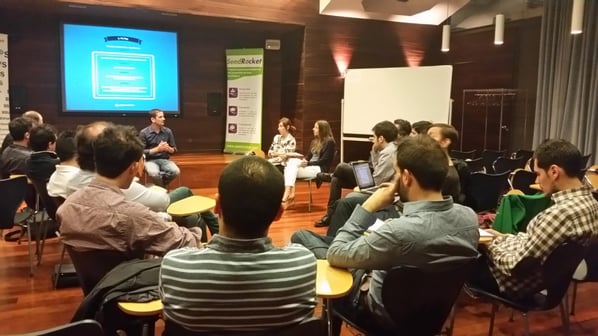 3 winning Startups
Friday May 22nd the final presentation to investors and business angels of Seed Rocket will take place and they will decide which are the three winning projects. Although the winner of this award doesn't mean it is a safe investment, they do receive 3 awards related startups Campus partners. An important agreement was also announced.
Seed Rocket
Entrepreneurs Campus is the training program, investment and acceleration of reference for startups in the online and technology sector. The event takes place thanks to the involvement of a network of mentors, to the collaboration of Barcelona Activa and sponsors like Banc Sabadell.
Since 2008, because of the accelerator SeedRocket, more than 2,000 projects that have been analyzed for their team, 140 startups have formed high growth potential over the 12 Campus' made, have gone through the accelerator and of these 53 startups, A total of 40 have managed to receive investment. Globally, they have invested 27 million euros in SeedRocket startups.
Cyberclick
@Cyberclicknet