By Chantal India, on 03 May 2016
Once upon a time, in a year far, far away, social media didn't exist. It may not have even been that long ago, but social media has become such an essential part of the way we live, work and interact, that it is hard to imagine a world where it didn't exist. In a place where users spend a great deal of their lives, it becomes all the more important for brand to make the most of this instant, interactive and unique connection they have to their consumers to get their message out there and make themselves remembered.
Social Advertising has become a crucial part of marketing, and an opportunity that cannot be passed up if you want your brand to survive, and stand out from the noise of marketing in today's day and age.
So get your team together, get creative and use the unique tools put at our disposal by social networks and do something no one has ever done before, and you will see how quickly you earn your audience's love and attention. What are the next big social networks to come? Read about the 7 social networks that will compete with Instagram, Snapchat, Vine & Pinterest in 2016 to stay ahead of the curve!
Here are some examples of brands who deserve a gold medal in social advertising...

WWF #LastSelfie
Admittedly, Snapchat may not seem like the best social media form for advertising your brand. Who wants to pour money into an ad that quite literally self-destructs after being seen? Incorrect. The World Wildlife Fund absolutely nailed the use of Snapchat for their raising awareness campaign, in the (successful) attempt to reach out to the younger generations who are now on Snapchat.
They used the unique, fleeting nature of Snapchat, where images disappear after only 10 seconds, as a metaphor for the lives of endangered species who, like the their selfies, will disappear before our eyes if no action is taken.
In their campaign they 'snapped' beautiful pictures (the #LastSelfies) of endangered species, with lines such as "Don't let this be my #LastSelfie" and "Better take a screenshot because this could be my #LastSelfie", encouraging people to take screenshots and share them on social media, raising awareness and donations for the cause.
With this campaign, the foundation was able to reach their monthly donation target within no more than 3 days. After only one week, 40,000 tweets had been viewed on 120 million Twitter timelines, around half of all active twitter users.
"In a way Snapchat is a mirror of real life. The images you see are transient, instant, unique, yet only live for a few seconds. Just like these endangered animals."
ALS Ice Bucket Challenge
The ALS Association may very well have pulled off the most successful social media campaign the world has ever seen. They are a non-profit organization, raising awareness and donations for people suffering from a disease called ALS (also known as Lou Gehrig's disease). The truth is that most people had never heard of this disease a couple years ago, but in the summer of 2014 all of that changed.
In a brilliant stunt that made the most of social media's interactivity, the challenge was so: To film yourself pouring a bucket of ice cold water (preferably with ice cubes in it) over your head, upload the video onto a social media platform with #ALSIceBucketChallenge and nominate some of your friends to do the same. Simple enough, and yet effective beyond their wildest dreams, becoming one of the world's largest global social media phenomena.
To date, there are over 17 million Ice Bucket Challenge videos circling the Internet, which have been watched by 440 million people more than 10 billion times. The association raised over 115 million dollars in just 2 months and more awareness than they could imagine. Hundreds of celebrities participated as well, including Bill Gates, Justin Bieber, Mark Zuckerberg, Oprah, Lady Gaga and even Kermit the Frog and Homer Simpson.
The association has decided to revive the trend every summer, #EveryAugustUntilACure.
Urban Hilton Weiner's #UrbanSelfie
Yet another brilliant idea to use social media to boost sales. South African fashion store urban Hilton Weiner came up with a great idea for giving discounts to their loyal customers.
All people had to do was take a selfie of themselves trying on clothes in the Dressing Rooms inside the store, tweet their selfie with #UrbanSelfie, and show their tweet at the counter to get an easy 10 dollars off their purchase. If their seflie was awesome enough, they could even get 20$.
They found a fun, quick and free way to engage their customers and interact with them, offering them a small reward and a great way to get themselves shared all over Twitter! And who can resist buying that dress that just looked so perfect!?
Audi's #WantAnR8
Back in 2011, Audi fan Joanne McCoy shared her longing for the Audi R8 with Audi themselves on their Twitter page, using the hashtag #WantAnR8. Sensing a brilliant opportunity for advertising, Audi rewarded her by showing up at her house with and Audi R8 that was hers for the day. They then encouraged other Audi lovers to enter the contest simply by tweeting #WantAnR8, after which a few lucky winners would be chosen to share Joanne's day of Audi Bliss – a free day with an AudiR8.
Domino's One-Tweet-Order
Talk about breaking through the wall dividing sales and marketing. In a stroke of genius, Domino's launched their One-Tweet-Order campaign, in which hungry, impatient customers could order a pizza with – you guessed it – one simple tweet.
Users simply had to link their Twitter account to their Dominos account and save, on their website, their favorite pizza as a setting, and from that moment on, all they had to do was literally tweet #EasyOrder or a Pizza Emoji and @Dominos, and their order would be a-cookin' in a matter of minutes. Ordering food online has never been easier.
Not only did this campaign encourage people to order Domino's by making it so much easier, they created a self-propelling Twitter marketing campaign. Every time someone easy ordered a pizza, it would inherently be shared with all their followers. It doesn't get much cleverer than that.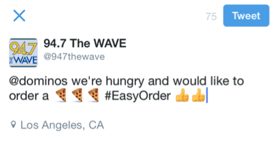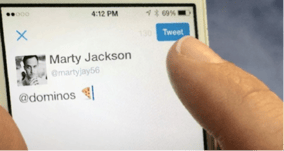 The GoPro Cat
There aren't many certainties in life, but the unprecedented level of popularity of cute animals on the Internet simply isn't arguable. Which is why they are an all but foolproof way to wiggle your way right into your consumer's heart to stay.
Cats are pretty much lurking in every corner of the Internet, making people ooh, ahh and fall in love. Which is why it was brilliant of GoPro to coax one out of the corner, and take advantage of a totally authentic and consumer-created video of an adorable cat skateboarding around like a human, filmed with a GoPro camera. How could this video not go viral? Didga the cat was all the rage in Gopro's Instagram ads featuring her feline friskiness, and earned them a place in many a cat-lovers' homes.
It is important to point out that the organizations or brands didn't all necessarily come up these ideas with themselves. The brilliance of social networks is that everyone is exposed to everything, and not only can consumers more easily see what brands are saying, but brands can just as easily see what consumers have to say about them! The essence to social media and nailing social advertising is to be constantly tapped in to what is going on, and a consistent, ever-present bond with your followers. Jump on any ideas or opportunities that they may give you, and make them go big. Where as advertising used to be a static, long term carefully planned out ordeal, social advertising must be constantly updated and changing, flexible and adapting to new ideas, suggestions and consumer reactions, blowing so many limitations out of the water. So let your creative flag fly and start sharing!
These were some of our favorite social ads of all times, what are yours? Share them with us!
Written by: Chantal India