By Nerea Boada, on 08 April 2016
Do you use social networks as part of your marketing strategy? The fact is, even nowadays, these channels have a certain "bad reputation" amongst digital marketers for the difficulty in measuring their ROI. The problem is that many companies use social networks to "generate brand awareness" or "create communities", and measure their success based on metrics such as the number of likes or retweets, but are then not able to translate these results to analyze whether they are actually aligned with their overall marketing objectives. So, if your final goal is to increase your brand's sales, what you need are strategies to generate quality leads on social networks and increase your conversions.
The shortest path to connect social networks and ROI is sharing content that then translate into conversions on your website. If your business is based on ecommerce, you can share the latest offers, promotions and products which may interest your followers; while avoiding being considered spam, of course. If you operate in the B2B world, on the other hand, you will have to use content marketing based strategies, to generate quality leads on social networks. If you write a blog, create eBooks and downloadable guides that you can share, you will have a simple way of obtaining measurable results to show what is working and what's not, and to adjust your strategy to help achieve your goals. Furthermore, this type of focus increases the engagement of your new lead with your brand.
So if you happen to be in the need of renovating you strategy to generate quality leads on social networks, I would like to share with you 5 strategies that will help you improve results.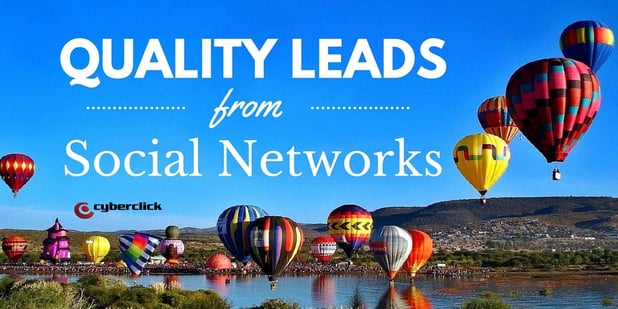 1# Focus on the social networks your consumers actually use
If you want to generate quality leads on social networks, the first thing you need to know is where you can find your target. The key to success is choosing the most appropriate social networks for your brand. Most of B2B campaigns (65%) have managed to obtain at least one new client through LinkedIn, followed by Facebook (43%) and Twitter (40%). There are no set recipes for success, you simply have to try out different ones until you find the social network for your brand. In any case, this might help you out:
Facebook

continues to be the most popular social network all over the world. Furthermore, it reaches out to all segments and ages, although some recent studies indicate that teenagers are beginning to favor others, such as Snapchat or Instagram.

Twitter

is the second most popular networks in terms of users, but the forth in terms of use, as 60% of tweeters use it to stay up to date with what's going on, but don't publish their own content. Its biggest feature is its speed: if your brand has anything to do with the present, it can be a great place to find quality leads.

Instagram

has grown a lot in terms of users and activity in the past months. If you are able to give your brand a bit of a visual spin, you can make the most of its advantages. Put your creativity to work!

Pinterest

: a "niche" network used mainly by upper-middle class women who are very interested in purchasing, meaning it can be an excellent opportunity to generate conversions and leads for the right brands.

Google+

is another place to keep in mind if your company is in the Tech or engineering sector.
2# Create and share quality content
Your social networks are only as good as the content you share on them, so be careful with your content strategy! A frequently updated blog that also includes "timeless" articles (made to be shared several times as time goes on) is vital. But don't stop there: infographs, downloadable content or even launching your own company YouTube channel are key to stand out from the competition and attract more visitors. Don't forget that very high quality traffic can arrive from social networks: it has been calculated that the ratio between leads and visits from users of social networks is from 3 to 5 times high than from the general public.
3# Dare to publish your landing pages on social networks
Alongside your blog posts, you can (and should) also share landing pages to acquire instant conversions. If an eBook or a guide are good enough to get a place on your website, they deserve to be shared on your social networks to generate quality leads who are interested specifically in your content. As always, don't go overboard, but if you update your content often enough you can even post up to 1 landing page per day on Twitter, and a couple per week on other social networks. If you are just that good, your followers might even want more.
4# Share content from other sources
Some time ago, the "social network rule" was that you should share more content from other sources than your own. Nowadays this rule is a lot more flexible, especially if you are creating high quality content. In any case, sharing content from other sources can be a good idea to cover up any faults in your content creation plan and to show those you follow you that you aren't obsessed with yourself.
5# Lead Nurturing
Have you managed to get your visitor to convert into a quality lead? Give yourself a pat on the back… but now don't let yourself get lazy nor let your lead gather dust in your database. Leads originating from social networks have higher probability of opening your emails and visiting your website than those that come from other sources, but you still need to give them a little push. Keep in touch with them by adding them to your lead nurturing campaigns.
An remember: if you want to acquire quality leads with social networks, don't limit yourself to sharing press notes. Users are already tuned in to your brand, so it's the time to offer them useful content that actually solves their problems, and not to talk about yourself. With a little bit of effort and consistency, you will be able to see and measure the true results of you social network strategies. Good luck!
Nerea Boada