By David Tomas, on 23 November 2016
2017 is just around the corner and it has become more than obvious that the mobile reign has arrived and is here to stay: over 75% of our society owns a smartphone. According to Google's statistics, mobile web traffic overtook desktop traffic for the first time ever in 2015, and it shows no sign of slowing down.
Which is why it is so vitally important for your brand to have a mobile marketing strategy that earns them a place in their consumer's pockets. To know whether or not your efforts are successful and justify your investment in mobile advertising however, you need to fully understand mobile analytics. And so, I would like to talk to you today about the 5 mobile marketing metrics managers need to know.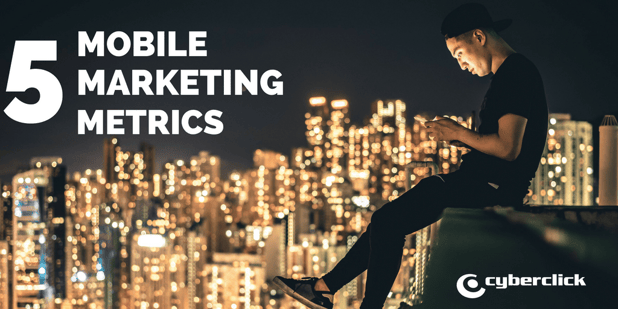 1) App installs
The number of times you app has been installed is perhaps the most obvious indicator of your app marketing strategy's success. The first step is, naturally, to convince potential users that your app is worth downloading. If you are able to attract a significant amount of downloads, it will generate a type of magnetic effect that will attract even more people. But App Installs is not the only metric you need to pay attention to: keep reading to find out which are the most exact and effective mobile marketing metrics.
If you want to know how to increase your number of App Installs, download the

Mobile App Marketing eBook

. It is a complete guide to mobile marketing strategies.
2) Registrations
The first mobile analytics mistake you need to avoid: mixing installations up with registrations. They are two very different metrics and, in fact, they tend not to match. This happens for two reasons:
Because of users who download you app but never actually open it, and, as such, never register in it.

Because of users who install your app on several devices (on their smartphone and their tablet, for example), but only use one account.
All in all, registrations offer a more trustworthy perspective of your app's real number of users, as opposed to installations.
3) User activity
When analyzing user activity data, we start leaving behind the world of mere metrics, and enter into the world of KPIs, which can truly provide you with valuable information to guide your business decisions. Here are the user activity metrics you must not lose sight of:
Active Users.

Normally, this number is measured over a certain period of time: the most common being daily, weekly and monthly active users. If all of your users were to use your app every day of the month, then your number of daily active users would be the same as your monthly active users.... But alas, real life tends to be slightly more challenging than that.
Frequency of use.

This metric is very important to measure how much people actually interact with your app. You can also calculate the engagement rate by dividing the daily active users by the monthly active users. For example, if your daily audience is of 100, and your monthly 500, your engagement rate would be 20%, although it is important to keep in mind that this isn't uniform.
Retention Rate.

This figure measures the frequency with which users return to use the app again. It is normally measured over a period of time: two days, a week, two weeks or a month. It is very important and particularly relevant for financial planning in mobile marketing.
Session Duration.

Lastly, you should be paying attention to how much time users spend interacting with your app. The importance of this metric compared to others depends on the kind of app: games or social networks, for example, strive to make sessions longer, whilst booking apps want users' experiences to be quick and easy.
4) Monetization metrics
Define KPIs: cost per download, LTV and daily active users. To monitor the performance of your app, you should establish some reviewable KPI's periodically. The first indicator to pay attention to is the cost/download, taking into account all the costs involved in diffusion to obtain a download. Another metric to consider is the Life Time Value (or value of lifetime users), which consists of measuring how much each customer contributes to your margin in the long run, to find patterns of users more and less profitable. Finally, paying attention to the active users that are in daily application will help you identify potential areas for improvement.
We've reached the part that managers will find most pertinent: monetization. How much money do users spend on your app, and how do they spend it? This indicators will help you find out:
Average income per user.

The most basic of the monetization metrics.
Average income per account.

Same idea as the last, but in this case measured by account, as opposed to by individual user.
Average income per paying user.

This tends to be significantly higher than the previous two, as it only takes premium users into account.
Lifetime Value (LTV).

The average income generated by each user during their lifetime in your app. This is the most important metric to determine an app's long term profitability; in fact, many mobile marketing strategies fail because their LTVs are lower than their acquisition cost for each user.
A user's average lifetime.

Closely related to the LTV, this metric tells us how long users remain active for. The longer we can make it, higher the Lifetime Value will be and higher the chances of monetizing our app.
5) Advertising metrics
The ASO is the App Store Optimization, or the process of optimizing an application to appear in the top search results on the app stores, and therefore gets more downloads. If you do decide to create an application, it is essential to pay special attention to this point, since over 63% of users downloading smartphone apps are through some of the App Stores. It is essential to work keywords (important to be descriptive and give priority to quality over quantity). You also need to be very careful about the categories in which you introduce your app, since this choice can make the difference between a success and a failure.
Additionally, social ads are one of the most effective ways to promote an app. Some of these solutions, such as Facebook Ads and Twitter Ads, have specialized formats to attract new users to an app, or increase app engagement. But how do you know if you are getting what you want? Follow these metrics:
CPI (Cost Per Installation).

It is calculated by dividing the advertising costs by the number of installations achieved. As I mentioned before, the importance of the number of installations is relative, so don't rely on this metric alone.
CAC (Customer Acquisition Cost).

It is calculated in the same way as the CPI, but taking into account the number of registrations, as opposed to installations. For this reason, it is a more trustworthy way to know how much it costs to attract new users through advertising.
Conversion ratio.

This is one of the most important metrics to optimize

your mobile marketing strategy

. It is most commonly calculated by analyzing the relationship between the amount of times an apps in clicked on, and app installs. It can also be used to compare the quality of the traffic coming from different sources.
David Tomás