By Laia Cardona, on 14 June 2017
Content Marketing is in a state of constant evolution, changing along with the consumer habits and preference and the trending of new technologies and tools. Despite that, its main goal remains the same: to attract traffic to your website and help your users down the conversion funnel, in order to convert them into customers.
Content marketing continues to be an extremely effective way to connect with your audience, but with all the noise and overwhelming amounts of content out there, that it can sometimes be quite hard to be heard. In order to stand out and make the impression you're striving for, you will need to take your creativity to another level and make the most of the latest tools. These 5 content marketing trends that seem to be on fire recently will help you achieve just that.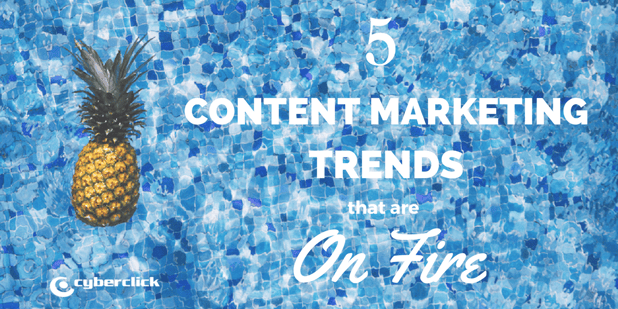 The 5 content marketing trends to make your content shine
1) Data based marketing
The sheer amount of data we have access to nowadays is simply incredible, but there are very few brands who actually use this to their advantage. Collecting and analyzing relevant data and turning this information into concrete actions could just de the advantage you need over your competition.
For your strategy to be successful, the key is not to drown yourself in a sea of data, but rather to find intelligent and justified answers to the most basic questions: What kind of content works best for your business? What time should you publish at? Which channels offer you the best conversion rates?
2) Video
Among this year's content marketing trends lies an old friend that seems to be gaining more and more traction every day: video.
As mobile screens improve in quality and size, along with the improvements in data connections and internet speed, video seems to be taking over. According to studies, 74% of 2017's internet traffic is related to video.
Behind this success lies a peaking trend that has completely revolutionized the way we consume video: live streaming. Over the past few years, all of the main social networks have welcomed live video and brands didn't hesitate about making the most of this tool to create a more authentic connection with their audience.
As well as drawing attention all on their own, video can also be used to strengthen the effect of other digital marketing tools. Including video in an email marketing campaign, for example, can increase your CTR by 200-300%. If you haven't already, 2017 is definitely the year to include video into your content marketing strategy.
3) Personalization and segmentation
Content personalization is such a strong content marketing trend, that some people even prefer the term "hyper-personalization". Personalizing your content makes it much more relevant to the person who is reading it, and, as such, considerably improves results compared to mass-campaigns.
In order to personalize effectively, there are two tools you cannot miss out on: social listening and marketing automation. The former will help you gain access to your audience's real time conversations, while the latter allows you to automate and optimize the process for your team to be able to dedicate more time and resources to strategy and creativity.
4) Email marketing
Year after year, email marketing still manages to keep its spot among the top content marketing trends. And with good reason: although it has been around for what seems like forever, this tools is constantly being renovated and proves itself as one of the most effective.
The mass popularization of smartphones in recent years has revolutionized the way we use our emails, and hence brought new life to email marketing. Nowadays, a large portion of emails are read on mobile devices, making responsive formats an absolute must. Video and interactive content are also trending and are very effective in drawing users attention.
Email marketing proves to be particularly effective for B2B companies, who have longer sales processes and as such need ways to maintain potential clients' interest over time.
5) Original and interesting studies and investigations
Although content curation can be very useful for your strategy, there is no denying whole much people love original and unique content. Afterall, content marketing is all based on offering the user values, and what better value to offer than information that no one else has? To present your data and finding in an attractive way, downloadable eBooks and infographics are very popular.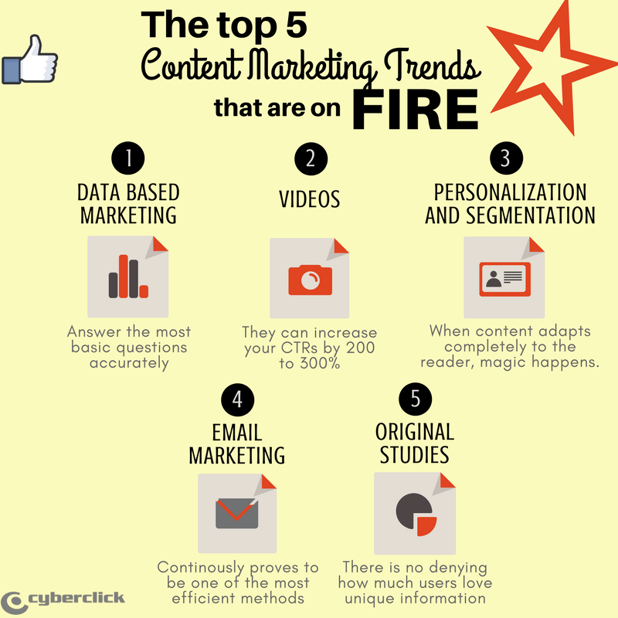 Article: Laia Cardona @laia_cardona
Infographic: Paula Mock